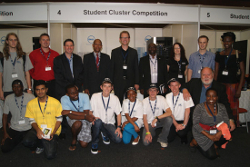 Four Wits students were part of the team who made their country proud when they who won an international supercomputing competition, beating teams from the US, Germany, Costa Rica and China.
The core of the South African team were three third year students from Electrical Engineering – Kerren Ortlepp, Jan-Willem Steeb and Ryan Strange — and a Computer Science third year, Mohamed Atif.
The team triumphed at the HPCAC-ISC Student Cluster Challenge which took place in Germany over three days from 17 to 19 June 2013. This is the first time South Africa has entered the Challenge which is now in its second year.
The competition features small teams that compete to demonstrate the incredible capabilities of state-of- the-art high-performance cluster hardware and software. The teams have to build a small cluster (like a mini-supercomputer) of their own design on the exhibit floor of the ISC (International Supercomputing Conference) and race to demonstrate the greatest performance across a series of benchmarks and applications. It's designed to introduce the next generation of students to the high performance computing world and community.
The students were entered for the competition after the three Electrical Engineering students, together with a student from North West University, won a local challenge organised by the CHPC (Centre for High Performance Computing) which provides supercomputing facilities to South African universities.
Dr Renier Dreyer, Wits lecturer and CEO of CrunchYard which is a supercomputer hosted by Wits, helped the Wits students prepare for the competition. He said they worked through the night in Germany, configuring their design for a cluster to take a title which they initially thought they had no chance of winning.
According to Dreyer: "South Africans have this inferiority complex for some reason, but when you do go and measure yourself against the rest of the world, you find that you're not bad and in fact you might be better."
Article issued by Wits