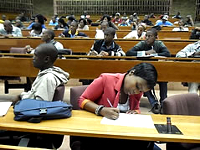 What Should a Student Take From Home to University
You've finally secured your place at the university and now you can't wait for your classes to start. Congrats! You're probably already packing for a move, but even though you're over the moon, keep in mind that you're not actually moving to the moon.
As tempting as it may be to bring everything you own, it's best to stick to basics and only bring the essentials at first. Because the packing process can be a bit overwhelming, we've gathered a list of essentials you'll need to get to start this new chapter on the right foot.
Electronics – for studying and entertainment
Electronic devices are practically a must-have nowadays, and they're just as essential as any other item on this packing list. Aside from a smartphone, a laptop is one of the most-used items among modern-day students, and you want to get a reliable model at a reasonable price. This shouldn't be too difficult nowadays as there are so many great deals – all it takes is a quick Google search. You can use it as a TV and stream your favorite shows and also write essays and do your research for university.
Some other electronics to take from home to uni include:
· batteries
· USB sticks
· headphones
· chargers
· extension cables
Academic items
Preparing for your freshman year will also involve stocking up on university supplies and stationery. However, before you go shopping, make a list of items you need to buy right away and the ones you can purchase after you arrive. If there's a college shop on your campus, you can easily get all the essentials when you settle rather than packing everything into already overflowing boxes and suitcases.
The same goes for the books on your recommended reading list that you'll get before the course starts. Oftentimes, you'll be able to get these on a discount or buy them second-hand and save yourself some money. Some of the university supplies you'll need are:
· highlighters
· sticky notes
· journals
· pens and pencils
· stapler
Make sure to bring your university documents such as your acceptance letter as well as your ID – you may be asked for these when you enrol, and you want to keep them handy and neatly stored in a folder.
Some basic kitchen supplies
Whether or not you love to cook, you will need to bring some basic kitchen supplies with you. These include:
· food storage containers
· cutlery sets
· pots and pans
· mugs and glasses
· bowls and plates
Regardless of how many items you're bringing, your goal is to move your belongings safely and carefully and with minimal hassle involved. But when it comes to transporting fragile, breakable items such as kitchen supplies, moving can be a rather difficult endeavor. This is why, according to the best moving company in Phoenix, it's not unusual for individuals to look for companies that offer both packing and moving services. In doing so, students can make sure that their fragile possessions are packed in a quick and safe manner and that they'll get from A to B unscathed, so they can focus on preparing mentally for this big move.
Clothing items
The clothes you decide to bring to university will largely depend on the weather there, but there are some general guidelines to follow to make sure you've got clothes for every occasion. Here's a quick summary of what your wardrobe should include.
· Formal clothes and shoes
· Everyday, comfortable clothes and shoes
· Smart-casual clothing
· Seasonal clothing and items (gloves, scarves/sunhat, sunglasses)
· Pyjamas
· Gym kit
· Swimwear
Remember to bring enough hangers! These will help keep your clothes stored neatly and you won't have to spend time ironing your clothes just to look presentable. Also, keep in mind that you don't really need to bring your entire wardrobe when first moving in – clothes for autumn/winter will be enough in the first term, and you can bring the rest of your wardrobe for spring/summer after returning back from holidays.
Room decoration – to make yourself feel at home
Certain decor items may not come to mind when you're first making a list of essentials, but they can really make your dorm room come to life and make it feel more personal and homely. Here is a short list of decor items to consider adding to your packing list.
· photos, posters, and pictures
· artwork
· plants
· fairy lights
· mirror
· comfy bedding, blankets, and cushions
Even a couple of home comforts goes a long way in upping the coziness factor and making you feel less homesick – which is essential when you're just starting uni and moving away from home for the first time.
Wrapping up
As a university student and a first-time mover, deciding what to pack and what to leave home may come as a challenge. Having a draft can certainly come in pretty handy in these situations as it can give you a general idea of what you can and can't do without when university starts. There's a lot of packing involved, so make sure you start on time to make your move go smoothly and sans stress.