Seventy-three of the top-achieving scholars who have received prestigious scholarships were honoured for their academic excellence in a Scholarship Awards Ceremony held at the University of KwaZulu-Natal (UKZN)'s Westville Campus on 4 September.
A total of around 4000 awards worth approximately R80 million were distributed to students who have attained outstanding results in Undergraduate, Honours, Masters and Doctoral Studies during 2012.  The scholarships awarded are largely funded by the university and by donors and demonstrates the calibre of students choosing to study at UKZN.
Deputy Vice-Chancellor – Teaching and Learning, Professor Renuka Vithal said, 'Scholarships are awarded on a fiercely competitive basis in which merit is the most important criterion. A stringent selection process, in which the scholarships committee considers the marks obtained, the top marks and size of the class, the number of certificates of merit, Dean's commendations and the consistency of high performance among other aspects. The students finally recognised are the very best of thousands of hopefuls.
Guest speaker and KwaZulu-Natal Minister of Health, Dr Sibongiseni Dhlomo congratulated the recipients and reminded them that the awards "extols them to begin a long journey that requires them to emulate and surpass the achievements of Frene Ginwala, Zak Yacoob, Vincent Maphai and Pius Langa".
He commended UKZN for being a true African University in the African soil, serious about Africa's Development.
The best single undergraduate in the entire University and the best student to enter final year in the first degree was Mr Ridwaan Amod (22), a Bachelor of Science degree in Electronic Engineering student has achieved remarkable results that far exceed the norms of the average top student. Amod is the top student among 28 000 undergraduates.
Amod received the Lawrence and Constance Robinson Scholarship and the Townley Williams Scholarship.
Professor Vithal said Amod's exceptional performance proves anything is achievable. 'Ridwaan attained certificates of merit for 41 of the 42 modules he has taken so far, was top of the class for 36 of these modules, scoring 100% in two modules; and was awarded Dean's commendations in every semester since he has been registered; this is a phenomenal and rare achievement that makes him one of the very best students at UKZN.'
The Distinguished Students Award is a unique scholarship that rewards students who have, together with excellent academic achievement demonstrate exceptional leadership in engaging with communities and made a positive difference to the lives of people.  The award gives concrete expression to the values implicit in African Scholarship and the vision and mission that underpin UKZN.
The 2014 Awards were presented to Ms Basheerah Mohamed, a summa cum laude student majoring with a BA Honours in Community Development, and Mr Lukhona Afika Mnguni (24), a cum laude student in BA Honours in Social Science. Mnguni was also awarded the 'Abe Bailey Travel Bursary' that provides a unique opportunity for top South African students to tour the United Kingdom.
Another student who overcame many challenges presented by growing up and schooling in rural KZN is Ms Lucia Nompumelelo Duma (19), a first-year MBChB student, who was awarded one of twenty 'Frene Ginwala Scholarships', a special prestige equity award made to the top black African female undergraduates.
Duma said she is glad to represent black females who are excelling.
Professor Vithal said: 'It is heart-warming that some of our recipients come from less fortunate backgrounds.'
Another scholarship that acknowledges and encourages top-performing female students is the Emma Smith Overseas Scholarship, a substantial complete scholarship provided by the family of C.G. Smith.
This year's recipients were, Ms Rachel Morrow and Fathima Mohamedy. Morrow is also a Mandela Rhodes Scholar.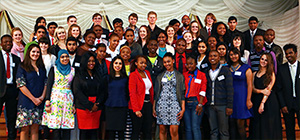 View all the awards and the names of the recipients here.