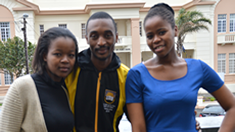 Three aspiring Economists from the University, Nomtha Vellem, Azania Yokwana and Loyiso Maciko, will soon be landing on the European continent to pursue their passion for Economics. The students have been awarded various scholarships to study at the University of Belogna in Italy towards Master's degree programs in Economics. The scholarships are the result of a partnership, EUROSA III, which is jointly coordinated by South African and European universities. The Internationalisation Office, headed by Mr Arthur Johnson administered the dissemination of information to staff and students which resulted in the awarding of the scholarships to the students.
Nomtha Vellem, who has been accepted into a 6 month program at the University of Belogna, studying towards a Master's degree in Quantitative Finance, is currently in her second year of the Master's degree program in Economics (by research) at UFH. She insists that the coursework she will be studying will broaden her knowledge of Economics and will equip her with skills to be able to analyse and interpret economic indicators. Vellem, who was born in Butterworth, comes from humble beginnings and has always had an interest in business and commercial subjects. She holds an Undergraduate degree in BCom (General) and an Honours degree in Financial Markets from the University of Free State and UFH respectively and hopes to study towards her Phd in Economics upon attaining her Master's degree. She credits her academic success to the support system she receives from her family and her strong belief in God.
Azania Yokwana is from a rural town in Enkanga in Libode and at age 22; she already holds a Bachelor of Economics degree and an Honours degree in Financial Markets from UFH and has been accepted for a two year full scholarship to study towards a Master's degree in Economics and Market Policy at the University of Belogna.  Yokwana emphasises the importance of diligently pursuing her studies in Economics, a subject she has been interested in since she was introduced to it in High School, as her intention is to be to be a distinguished academic in the field. The news of her scholarship was received with mixed feelings from her family, who are anxious and excited but very proud of her accomplishments.
Loyiso Maciko, a former employee at the Centre for Trans-disciplinary studies at the University will be pursuing a Master's degree in Economics and Market Policy on a full scholarship in Belogna. Maciko asserts that the EUROSA III scholarship is one of many opportunities available to students to pursue at UFH, adding that students need to be inquisitive and actively search for opportunities that will enhance their future prospects. He believes that there is a need for more young people who are educated and socially responsible to plough knowledge and resources back into the communities they come from. Maciko is the recipient of a BCom Management and Economics degree as well as an Honours degree in Financial Markets and is currently studying towards a Diploma in Higher Education and Training at UFH.  He has always had a passion for business economics but he developed a passion for lecturing while working for the Centre for Trans-disciplinary studies and hopes to become a qualified lecturer in Economics.
 Article issued by University of Fort Hare