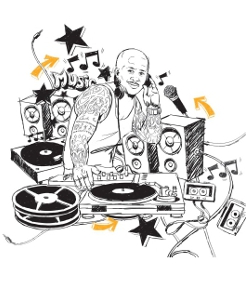 Cast and crew at Boston Media House Umhlanga branch wowed audiences at the Suncoast Casino in Durban with the screening of E775, their submission to the 48 Hour Film Project, on 14and 15 August. The futuristic film imagines what becomes of South Africa when a deadly virus called E775 is unleashed in 2028.
The film, which was directed by Boston 3rd year Video student Lauren Chengan, scooped several awards including Audience Choice and Best Use of Visual Effects. Chengan's team included fellow Boston 3rd year Video students, Lehlohonolo Nyama, Zama Khanyile, Zama Buthelezi, Simphiwe Kubheka, Sindi Nkomo, and Zanele Mthembu.
The 48 Hour Film Project is the world's largest time-limited filmmaking competition and sees teams from around the world spend a sleepless weekend creating short films at breakneck speed. Each year, cities worldwide take part, with the result that the competition has been responsible for creating more than 25 000 short films to date.
The grand prize is $5000 and an opportunity to screen the winning mini-masterpiece at the Cannes International Film Festival's Short Film Corner. Each city's winners receive a trophy and a copy of Write Brothers' Movie Magic Screenwriter software.
According to Chengan, the aim of the festival is to encourage creativity and teamwork. With a 48-hour deadline, the focus is on doing rather than talking. 'This was such an exciting event to be a part of,' says Chengan. 'It was exhausting but our sheer determination to produce a finished product kept us going.'
It is the first time that a team from the Umhlanga Boston Media House has entered the competition. The team is eagerly waiting to find out if its film will be chosen to air on MNET later this month.
The Video specialisation of the 3 Year Media Practices Diploma teaches students the ABCs of video, from concept to final product, including analysis, pre-production, production and post production. It also looks at the importance of applied theory, on-location facilities, and development of national and international skills.
This is just one of the ways in which the students gain experience through practical assignments and industry related projects. Third year students are required to complete a 100 hour internship in the industry. The latest equipment and software is used to ensure that students are up to date with the technology used in the workplace.
For more information on Boston City Campus & Business College