The South AfricanHockey Association named the Kovsie hockey striker, Izelle Lategan, as the U/21 women's hockey player of the year.
Lategan, who matriculated from Paarl Gimnasium last year, already made her international debut for the SA U/16 squad against Argentina in 2010. She is currently a first-year BA Human Movement Science student at the university.
On provincial level she represented both the Free State women's squad and the U/21 women's side this year. She also captained the SA U/21 women's hockey team and was called up to the women's Protea side in 2013.
Her goal still remains to be part of the SA Hockey team for the 2016 Olympic Games.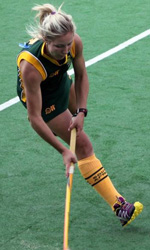 Article issued by University of the Free State.