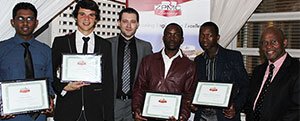 Four Aspiring Engineers Win Bursaries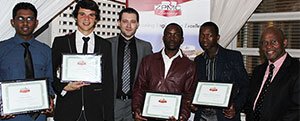 Project Manager at Shanghai Zhenhua Heavy 
Industries Mr Rory McBride (third left) with bursary 
winners (from left) Mr Trishen Naidoo, Mr David 
Glover, Mr Brightboy Dlamini, and Mr Nkanyiso 
Makhaula, and Transnet Chief Engineer, Mr Sabelo 
Mzimela.
Shanghai Zhenhua Heavy Industries (ZPMC), the world's leading manufacturer of port handling equipment which supplied seven ship-to-shore cranes worth R700 Million to the Durban port at the beginning of this year, has awarded bursaries to four UKZN Mechanical Engineering students.
The bursaries were awarded against a background of South Africa's economic growth prospects being hampered by an alarming shortage of engineers and a question mark hanging over the country's ability to deliver the 43 key infrastructure projects valued at over R3.2 trillion expected to be underway by 2020.
The four students are Mr David Glover, Mr Brightboy Dlamini, Mr Nkanyiso Makula and Mr Trishen Naidoo. The bursaries cover registration and exam fees for the third and fourth years of study, accommodation, travel and meals, and books and stationery.
The bursary programme stems from the initial contract to supply cranes to Durban. In order to cement an ongoing relationship with Transnet Port Terminals (TPT), ZPMC embraced TPT's Competitive Supplier Development Programme (CSDP) which is geared towards nurturing future South African engineers via the bursary programme.
According to the 2012 Infrastructure Sector Research Survey conducted by executive search firm Landelahni Business Leaders Amrop SA, 74 percent of local companies struggle to fill engineering positions. Of 511 564 enrolments in engineering disciplines from 1998 to 2010, only 70 475 graduated. And of the 183 529 enrolled in university engineering disciplines, only 29 280 graduated.
Mr Rory McBride, Project Manager at ZPMC, said the shortage of engineering graduates was a concern to both South African industry and international suppliers like ZPMC. 'The development of South Africa and its infrastructure is of critical importance to ZPMC. We are passionate about this market and understand the importance of the heavy-duty industry, especially when to comes to port handling applications.'
The seven tandem-lift ship-to-shore (STS) cranes that began the relationship between ZPMC and TPT are the largest in Africa and have boosted productivity and efficiency at South Africa's busiest container port. The tandem lift technology with its unique capability of handling two 12m containers or four 6m containers within a hoisting capability of 80 tons enables the port to handle new generation vessels with 24 containers stowed on deck. The cranes move 33 containers per hour, a major improvement on the 18 moved by their predecessors.
ZPMC currently services 80 percent of the world market for large-size port container cranes, large-scale container machinery, bulk cargo handling machines, offshore heavy-duty products, heavy-duty steel structures, energy-conservative environmentally friendly equipment and related accessories. A crane is manufactured every day at the ZPMC Island in Shanghai.
As part of their bursaries, each of the students will also enjoy a field trip to the ZPMC Island. 'This will be a great opportunity for these students to enhance their understanding of heavy-industry,' said McBride.
The bursary also includes the possibility of an internship at either the ZPMC South African office, or a local company contracted to ZPMC.
Glover said: 'The opportunity granted to me by this bursary is one that I cherish and I eagerly await the day that I am able to see the ZPMC Island.'
Dlamini, a top student whose disadvantaged background threatened to disrupt his studies, has committed himself to finishing his degree in record time. 'The ZPMC bursary gives me hope and motivation. It shows me that dreams can come true. I will grab this opportunity with both hands and do everything I can to impress the people who believed in me. I see myself as a successful engineer because of ZPMC.'
Naidoo says that the ZPMC bursary will allow him to concentrate on his studies without worrying about how to pay his fees. 'My parents work extremely hard and make many sacrifices to ensure that I can realise my dream of becoming an engineer. This bursary means that my hard work is paying off and motivates me to set and reach higher goals. It inspires me to go the extra mile.'
Makhaula, who has refused to allow his disadvantaged background in a single parent family stand in his way, said: 'I am passionate about mechanical engineering. I was fortunate to do subjects at school that paved the way for me to become an engineer. Maintaining my academic performance at all times and having the interest and desire to meet and learn from other people are what gives me inspiration.'
Article issued by UKZN