Celebrate Your Heritage in Style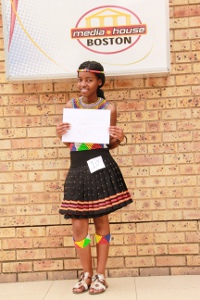 Students from Boston Media House celebrated Heritage Month in real style as they got into the spirit of the Heritage Day Fashion Show-Off which was held on 27 September.  Students were encouraged to come dressed in the nationality of their choice.
There were great prizes up for grabs including the chance to win 2 concert tickets to the much anticipated Rihanna concert, however students really had to show off their creativity not only with their unique outfits but also with their interpretation of their chosen nationality's language, in order to stand a chance of winning the big prize.
'It was a fantastic day,' says Maryne Steenkamp of Boston Media House. 'The students really went to town and tapped into their creativity, illustrating their understanding and love of their own and other cultures.'
Some of the outstanding costumes included Tsonga culture, Zulu, Venda, Xhosa and Tswana cultures.
The winner was Zakithi  Mabaso who came dressed as a Zulu woman.
For more information on Boston City Campus & Business College