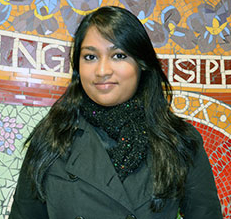 Final-year student in the MBChB Programme, Ms Reshania Naidoo, is on the road to becoming a seasoned TB researcher after being invited to do oral presentations for high powered international audiences.
The 22-year-old will present her findings from research completed over and above her final year undergraduate studies to expert clinicians, academics, civil society representatives, government and other delegates at the South African AIDS Conference in Durban next month.
Her biggest accomplishment thus far was an invitation to do an oral presentation at the 43rd World Union Conference on Lung Health and Tuberculosis in Kuala Lumpur, Malaysia, in November last year. Her study was chosen as one of 100 out of 1 500 submissions to be presented at the Conference.
The study was conducted under the mentorship and supervision of Dr Nesri Padayatchi, Deputy Director of the Centre for the AIDS Programme of Research in South Africa (CAPRISA) and in association with the Albert Einstein College of Medicine in New York where they assessed treatment outcomes using Clofazimine, a third-line TB drug, in patients with XDR-TB.
Naidoo reported that after six months of treatment, 90 percent of patients in their cohort had become culture negative – a world-first which will impact significantly on the approach towards treating drug-resistant TB.
Naidoo said: 'Multi-drug-resistant (MDR) and extensively drug-resistant (XDR) are one of the biggest healthcare challenges facing our country today and present a unique challenge to us as South Africans as up to 80 percent of these patients have co-existing HIV infection.
'We need to find novel ways of treating patients with drug-resistant TB as our current regimens are failing and fatalities are on the increase, especially within our setting of HIV/AIDS. More importantly we also need to find ways of shortening treatment duration as this poses one of the biggest difficulties to our patients due to side-effects among many other reasons.'
Naidoo joined CAPRISA as a third-year research placement and thanks to the support from her mentor she has already established herself in TB research.
Naidoo said presenting at the Union Conference was an eye-opener for her in terms of the world of research. 'It was actually beyond my wildest dreams to present on an international stage. It was a daunting task being the only undergraduate there but it was the experience of a lifetime. I also got to meet some of the biggest international names in TB so that was great!'
Naidoo acknowledged UKZN's College of Health Sciences for sponsoring her trip to Malaysia saying she came back with new ideas and was even more inspired for her future as a doctor. She says that she will always be a clinician at heart and loves internal medicine but realises the huge global difference that research can make and will continue to pursue research in the field of TB.
She said her biggest inspiration had been her father, Dr Kantharuben Naidoo, Principal Specialist and Acting Head of the discipline of Family Medicine at UKZN. 'He is my role model as a doctor. I really owe a lot of my achievements to my parents and thank them for their support.'
Article and image source:University of KwaZulu-Natal