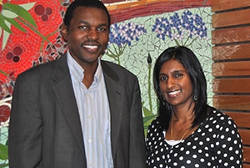 Ms Kavidha Reddy, a PhD student in the HIV Pathogenesis Programme (HPP), has been awarded the IAS/ANRS Young Investigator Award by the International AIDS Society and the French National Agency for Research on AIDS.
The IAS/ANRS Young Investigator Award supports researchers under the age of 35 who demonstrate innovation, originality, rationale and quality in the field of HIV work.
Reddy, supervised by UKZN's Victor Daitz Chair in HIV/TB Research and Head of the HPP, Professor Thumbi Ndung'u, received the award at the 7th IAS Conference on HIV Pathogenesis, Treatment and Prevention, in Kuala Lumpur, Malaysia, where she presented her study titled: "Association of APOBEC3G genetic variants with HIV-1 vif sequence variation and impact on HIV-1 pathogenesis."
According to Reddy, finding a safe, effective and durable HIV vaccine is still a priority in the fight against HIV; however, this remains a great challenge. Thus far, traditional vaccine approaches have focused on CTL and antibodies.
Reddy's study is unique in that its focus is on a new arm of the innate immune system which constitutes cellular host restriction factors (HCRF). HCRFs are proteins widely expressed in mammalian cells and inhibit stages of HIV-1 lifecycle, however; they are currently not targeted by existing AIDS therapies.
Reddy's study concentrated on understanding the role of the HCRF known as APOBEC3G which was shown to have antiviral activity.  Reddy's work shows that genetic variants of this protein differ in their antiviral activity and that a viral protein (Vif) that targets APOBEC3G  may be evolving to better counteract APOBEC3G.  In particular, she found that the Vif protein from HIV-1 subtype C is evolving to better inhibit APOBEC3G, thereby inactivating host defences against the virus.  These data point to mechanisms that could be exploited to develop a new class of drugs against HIV to block virus replication and slow down disease progression.
Reddy's current work is a follow-up on her previous study, published in the journal AIDS in 2010, in which she identified various naturally occurring genetic variants of APOBEC3G, including some associated with rapid disease progression. The findings of this study suggest how HIV may be targeted through new immunotherapeutic ways.
Reddy said, 'The results of the study are exciting. It has paved the way for further research in this area which may provide a new avenue for future AIDS therapies and vaccine design shedding new hope against retroviral pathogenesis.'  Ndung'u commented, 'We are still far away from translating this knowledge into new drugs, but by understanding the fundamental mechanisms of disease, we have made a step in the right direction.'
Reddy recently submitted her PhD study for examination and has already been offered a post-doctoral position in the HIV Pathogenesis Programme and the KwaZulu-Natal Research Institute in TB and HIV (K-RITH).
Ndung'u's HPP is a multidisciplinary HIV pathogenesis research programme anchored by an immunology program that seeks to rapidly provide an extensive understanding of the immune responses that are effective in the control of HIV infection. Ndung'u strongly believes that the generation of scientists most likely to find a cure for AIDS exists within the under 35-year-old group and is therefore passionate about involving young people in scientific research.
Article source: UKZN