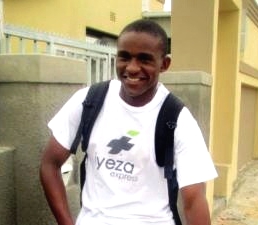 – Sibulele Shosha
21-year-old Sizwe Nzima of Iyeza Express describes himself as a passionate, energetic social entrepreneur with big dreams. Dreams so big they have earned him a spot on the Forbes Magazine's 30 under-30 best young entrepreneurs list.
Iyeza Express delivers chronic medication from public hospitals and clinics to clients doorstep on required dates. Started in Khayelitsha, his hometown, Iyeza Express started off with two clients; Sizwe's grandparents, his bicycle and his dream. Today, Iyeza Express is growing rapidly.
Sizwe employs four staff who zoot across the streets of Khayelitsha, saving hundreds of chronic medication recipients the inconvenience of travelling long distances in early morning to receive their monthly "life lines".
Sizwe attributes his business acumen to lessons learned at the Raymond Ackerman Academy, named for the founder of Pick 'n Pay which assists young entrepreneurial minds to reach their full potential. "Being an entrepreneur was not my first choice," says Sizwe. I initially had plans to study law. That didn't work out and I decided to pursue my second option, getting involved in business. I applied for one of the programs at the Academy.
"One of the things that I learnt from the academy was the importance of creating a business from something that you are passionate about and something that you know," says Sizwe. I was motivated by the experience I had already gained from collecting medication for my grandparents for the past three years.
Sizwe doesn't credit innovation for his decision to start his business, but rather his ability to identify a need. "Public hospitals are over-crowded and at times understaffed. This puts recipients of chronic medication in positions where they have to wake up as early as 3am to go and queue in these hospitals to receive their medication," he adds. Although Iyeza Express was inspired by what I was doing for my grandparents, I knew that thousands more within my community are facing similar struggles.
Just as any start up business with no existing financial cushion, finance was an obstacle. "I learnt through my peers that business capital is very difficult to find," he says.
"I was fortunate enough to win a prize at the academy, which enabled me to start my own business with the R10 000 prize money." Sizwe immediately injected his winnings into the business where he bought 2 bicycles, t-shirts, business cards and a phone.
"When I saw the difference that the money made to my business, I was encouraged to enter the SAB Innovation awards and to my surprise I was placed 6th and received the R100 000 grant," he says. This grant enabled me to take my business to new heights and expand.
"The response from the community has so far been great. Our clientele is growing impressively, making the challenges that we face worthwhile," We are looking to expand into other communities throughout Cape Town," he adds.
Iyeza Express partners with old age homes, home-based care organizations and some government departments and organizations within the health space. "My ultimate goal is to make sure that I make a positive contribution towards my community and country first," he says.
"I think that developing young entrepreneurs is something that the country needs to focus on in order to grow the economy, "he says. "We need to encourage young people to think creatively to find sustainable entrepreneurial solutions and consolidate the growth of a business culture"
"Being added on the Forbes list has motivated me. It is a positive indication that Iyeza Express has huge potential to expand and become an impressively sized business that operates throughout the continent, he says".
I see huge value in having started my business at such a young age – this enables me to learn and grow as an entrepreneur whilst having the ability to create meaningful work and inspire unemployed youth.
Article issued by Young Business Leaders