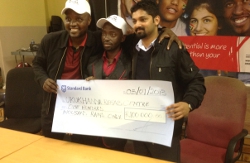 As part of the National Youth Development Agency's (NYDA) role in facilitating youth development, the agency recently aided Ukukhanya Rehabilitation Centre in KwaZulu Natal with R100 000 in cash.
The Centre, located in the Inanda, Eskebheni area treats mainly youth who battle drug and alcohol addiction and plans to use the funding to upgrade their facilities in order to better accommodate more patients. Ukukhanya Rehabilitation Centre is run by Khayelihle Gumbi, a one-time alcoholic who lost his home, job and a promising career to substance abuse. He spent four years on the streets, sleeping in the Albert Park area before he began his recovery in 2007. He was still a youth himself when he started the centre.
According to the NYDA Executive Chairperson Yershen Pillay, "I am humbled by the service and dedication shown by all those involved in Ukukhanya Rehabilitation Centre who are able to house homeless, destitute drug addicts and in so doing restore hope to families and communities. I commend the selfless community service offered by this Centre with the little resources that they have and encourage other communities and youth to find inspiration in such stories of selflessness. Khayelihle Gumbi is a true role model and we are proud to support the centre he has established."
Ukukhanya Rehabilitation Centre houses 30 people at a time for residential treatment; these patients mainly come from the Durban city center where they live on the streets. The Centre offers patients an escape to rural Inanda, Eskebheni and upon arrival at the Centre follow the 12-Step programme used By Alcoholics Anonymous to dry out. Most patients who experience severe withdrawal symptoms are taken to the Newtown C Clinic where they are treated with an IV drip.
"Through our support for self-forgiveness and self-worth, dry out treatments and family preservation programmes we support youth in conflict with the law, substance abusers and dysfunctional families. The funds provided by the NYDA will help us transform the lives of even more youth addicts and in so doing assist in creating drug, rape and crime free communities for generations to come," said the Centre Manager Khayelihle Gumbi.
Additional to residential treatment facilities, the Centre also hosts support groups at a local school for community members from surrounding areas three times a week.
"The NYDA cannot assist every young person or NGO that approaches us for funding however we endeavor to support as many meaningful beneficiaries as possible with the funds that we have at our disposal. Furthermore we heed the call by Government to support the battle against substance abuse and continue our efforts under the theme, Working Together for Youth Development and a Drug Free South Africa beyond Youth Day 2013." said Pillay.
Pic: NYDA Executive Chairperson Yershen Pillay with Ukukhanya Rehabilitation Centre Management
Article issued by the National Youth Development Agency