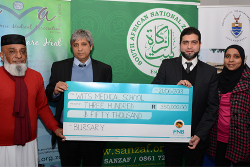 The South African National Zakaah Fund (SANZAF) has paid R1 555 779 towards bursaries for 48 deserving students studying at Wits this year. Of this amount, approximately R350 000 was paid to the Wits Faculty of Health Sciences by SANZAF's partner, the Islamic Medical Association (IMA). SANZAF and IMA have established a fund to support Health Science students.
"It is an honour and a privilege for us to accept these cheques from SANZAF on behalf of our students," said Prof. Adam Habib, the Vice-Chancellor and Principal of the University of the Witwatersrand. "We are grateful for the support that SANZAF and IMA has extended to assist students in need."
The cheques were handed over at a ceremony on Friday, 21 June 2013 at Wits University.
"SANZAF is a faith-based organisation that strives to facilitate the empowerment of families, and we help students by offering bursaries," says Yusuf Seedat, the Public Relations Officer of SANZAF. "We see tremendous value in investing in empowering our youth and future generations through our national bursary programme."
The SANZAF bursary programme covers most fields of study and supports students from diverse backgrounds, across the country. SANZAF has allocated over R9 million for some 550 students in the 2013 academic year.
Habib posed two further challenges to SANZAF. "Wits requires more funding to support postgraduate and international students studying in South Africa," he says. "Given the current economic climate, we know that it is tough out there, especially for parents who have one or more children at university. The more funding we receive from donors, corporates and those who can afford it, the easier it is for less wealthy parents to put their children through the higher education system."
In the context of funding in the higher education system, he added: "The higher education inflation rate is sitting at around 9.5% at the moment. It is higher than the current inflation rate as most textbooks, electronic resources and specialised equipment have to be imported. The current rand/dollar exchange rate is also exacerbating the problem."
Both SANZAF and IMA agreed to invite Wits University to partner on other mutually beneficial initiatives in the future.
For more information on the bursary scheme, visit www.sanzaf.org.za or www.imasa.org.za
Article source: Wits University