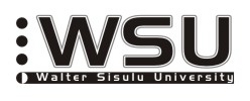 One of the country's most successful teacher training universities, Walter Sisulu University, which produces no less than 1,800 teachers each year, plans to introduce a Bachelor of Education for the Foundation Phase in 2015.
The Faculty's 6800 students are largely concentrated at the Mthatha, Butterworth and Queenstown Campuses.
Acting Executive Dean of Faculty, Prof Adriaan Coetser, who became Dean of the Faculty last year, says the decision to close teacher training colleges in 2001, has resulted in a shortage of primary school teachers.
"In order to address the challenge in the eastern region of the Eastern Cape, the University is designing a B Ed Foundation Phase programme for the primary phase of education, that is, grades one, two and three," says Coetser.
"Currently, in collaboration with Rhodes University, Nelson Mandela Metro University and the University of the Western Cape, we are conducting research that will help us develop the curriculum. This will enable us to address some of the challenges in grades one, two and three," he adds.
Over the last four years, the Faculty of Education staff have done well in improving their credentials by obtaining a record number of post-graduate qualifications, that is, Doctorates, Masters and Honours, making it one of the Faculties with the most skills. "The Faculty of Education puts a high premises on continuing teacher development," says Coetser.
Furthermore, in preparation for this new programme, the Faculty is helping staff improve their qualifications by providing adequate study leave, and acquiring better skills for evaluating students during the school-based experience part of teacher training.
The Faculty also signed a milestone Memorandum of Understanding (MOU) with multinational engineering powerhouse Siemens in Germany, which will help the University to benchmark a new methodology in training science teachers.
This MOU took effect in September 2013.
Coetser also announced that the School of Social Science and Development Studies, which is part of the Faculty of Education, is to introduce an extended programme for the Social Science qualification, which will commence in 2014.
"This programme is designed to equip those students who meet the minimum admission requirements, but may find the programme challenging, with the skills and to ultimately be successful in their studies," he says.
In another exciting development, the University is assessing the viability of extending teacher education programmes to the Queenstown campus. This would be an apt milestone for teacher education and in particular for WSU, which has offered teacher training programmes in Queenstown since 2005.
The Faculty plans to introduce a programme in Technical and Vocational Education and Training for lecturers in the Further Education and Training (FET) College sector. This venture is in response to the initiative by the Department of Higher Education and Training to provide adequate qualifications to lecturers in the FET sector, and is expected to commence in 2016.
Professor Coetser leads the Faculty consisting of 132 academics at the four campus sites. In May 2013, 1,090 students graduated with an education degree or diploma.
Article issued by Walter Sisulu University