Want to Study Music? Consider Studying at COPA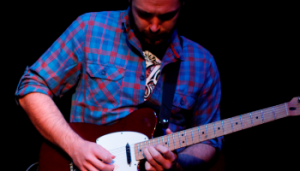 COPA – Creating Working Musicians
We have all fantasised about being a super star at some stage in our lives, but for those who are serious about realising their dreams, a solid foundation and a springboard from which to leap into the competitive music industry is highly beneficial. Perhaps it's not so much the stardom you're after but more a burning passion that needs to be fulfilled, a voice that needs to be released. Either way; the right training coupled with performance experience as well as the right affiliations are vital to ensuring that musicians are able to carve sustainable livings for themselves.
The Campus of Performing Arts (COPA) provides training in contemporary music and was founded by Garth Farrant in Johannesburg in 2001. It has gone on to open campuses nationally in Pretoria, Cape Town and in Kwa-Zulu Natal. Farrant still heads up the academy with a very "hands on" approach ensuring that the same winning formula is applied at each campus. COPA is registered by the Department of Education as a Further Education and Training (FET) college and a private Higher Education and Training (HET) institution.
"We have strategically aligned ourselves with partners that add value to our institution and to the future careers of our learners. Our aim is to create working musicians that are able to carve a sustainable living out of the music industry," comments Farrant. "I always like to say that I am in the business of music education but we're registered as a college," adds Farrant.
On an international level, COPA has a franchise agreement in place with the highly acclaimed Academy of Contemporary Music (ACM) in the UK. COPA practises the highly successful ACM methodology by applying their proven training model. The agreement allows COPA to offer a full complement of internationally accredited ACM courses at the FET level. This in turn allows COPA learners to transfer to any of ACM's international partners to either continue or further their studies. To supplement their local Higher Education programmes COPA have an agreement with the University of Chichester in the UK for students to obtain international recognition.
COPA offers both full and part-time courses, though part-time courses are at selected branches only, through its three schools, as follows:
COPA Performance School – it comprises of five disciplines: bass, drums, guitar, keyboard and vocals of which students will specialise in one. Learners perform live weekly, this helps them build a large repertoire of music while enacting a 'real world' situation.
COPA Production School – students do 'live sound' for the performance students in their first production year. They then go on to record students in their second production year and beyond, with their work being distributed on the 'Taste of the Talent' CDs.
COPA Business School – The Music Business School is a market leader in delivering trained graduates into the heart of the music and media industries via its Higher Education program.
One of the entry level international accreditations offered by COPA is the Edexcel BTEC Level 2 Certificate in Music. The qualification gives learners an overview of employment opportunities within the music industry and basic development of skills in performing, composing or music technology.
"What makes this establishment interesting, setting it apart from others in its field, is not only the fact that it fills a gap in the market for contemporary music training, offering locally and internationally accredited qualifications, but it also runs a non-profit Business Development Centre (BDC)," comments Jonathan McGill, Regional Director for Edexcel Southern Africa . "The BDC provides a tool for COPA to aid and keep track of graduates' career development, a factor that really appeals to us."
The BDC creates a link between employment opportunities and COPA graduates; which allows COPA to facilitate introductions into the music industry. Graduates are able to submit demos containing some of their original work to the BDC. The BDC works on a push and pull system – graduates are able to submit demos and promote themselves via the company Facebook page – and the music industry approaches the BDC when searching for a specific look, age, sex or sound; and the BDC matches them up where possible. Advertising agencies have made use of the centre when they need musicians or vocalists for well-known brands' commercials.