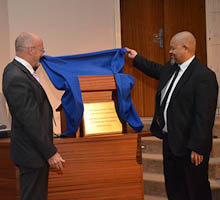 Unisa has partnered with the national Department of Science and Technology during National Science Week to promote the study of science amongst South African youth. The university chose the opening day of National Science Week to launch its state-of-the-art Science Campus, highlighting its commitment to African knowledge production, and the education of the country's future scientists.
Science, engineering and technology have been identified as areas where there is an acute shortage of skills in South Africa and which must receive urgent attention in terms of promotion as the new focus in both basic and higher education. Unisa intends to be a key role-player, hence its investment in building a campus, situated in Johannesburg, with state-of-the-art facilities to enable the teaching of science in a world class environment.
"Unisa's contributions to the growth and development of South Africa, the continent and the world over this period are incalculable, especially in terms of our graduates and their impact and influence throughout the world," said Unisa Principal and Vice-Chancellor, Prof Mandla Makhanya at the official opening of the campus.
The Vice-Chancellor said that Unisa was dedicated to advancing knowledge production by, and for Africans, and this campus was intended to grow research capacity and support research in the fields of science, engineering and technology, and in the agricultural and environmental sciences. "The cutting-edge facilities will provide the space for staff and students to grow and develop – to match theory and practice and to translate theory into practice.
"The Unisa Science Campus is set to become a true home to researchers and scientists, a centre for innovation where boundaries are tested and new thinking is sparked, and we look forward, with much anticipation, to the wonderful outcomes that will be facilitated by its facilities."
Unisa is aware that this is not an investment that one would consider typical for an open distance learning (ODL) institution, said the Vice-Chancellor, "but in our view it makes perfect sense in that these facilities, combined with our open, distance and e-learning (ODeL) business model and our strategy going forward, will take all of the benefits inherent in ODeL to a new level".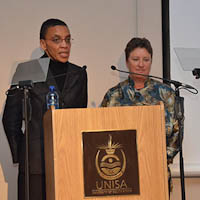 Innovation in Unisa's DNA
The Unisa Science Campus is an innovative conglomeration of buildings and facilities, comprising 12 different buildings, a library, two auditoriums and a large study area. Each has been given a name that reflects the diversity and richness of the sciences and those who have influenced its course and shape since its genesis. The names are also symbolic of Unisa's commitment to inclusiveness – to the embracing the diversity and collective heritage of Africans.
During his keynote address, Minister of Science and Technology, Derek Hanekom, commended Unisa for 140 years of commitment to supporting and improving not just the practice of science and technology in South Africa, but South Africa's continued innovation thrust. "An innovation instinct has been part of Unisa's DNA from the time it became the country's first examining university in 1918, and launched, amidst tremendous controversy, the Division of External Studies for correspondence study in 1944 to form a dedicated distance education institution that would serve both educational and social development needs. And now Unisa is using open distance e-learning to make studying, most often restricted to brick and mortar laboratories and lecture theatres, available to students whose circumstances would otherwise preclude a career in science and technology."
Hanekom said the skilled teaching and training of mathematics, chemistry, physics and all related subjects was a vital ingredient to South Africa's advancement in scientific areas. "Our colleagues at the Department of Basic Education and our various private and public partners are pouring tremendous human and financial resources into putting the infrastructure and facilities in place to enable such teaching. Facilities such as this one, with its environmental sensitivity, embody and exemplify the effort that players in the science and technology sector are putting into catalysing South African innovation."
Passion and visionary leadership
The journey to the launch of Unisa's Science Campus was not an easy one. It took visionary leadership, lead by former Vice-Chancellor Prof Barney Pityana, and sound and transparent governance and financial management. In addition to this, it took passion, which Hanekom applauded. "What is so gratifying about today, for me, is to see that this Unisa Science Campus is such passion made visible. The buildings have been constructed on green principles. The design and technology that has gone into them is innovation at its practical and sustainable best."
He said passion was fundamental to the sciences because without passion – in teachers and students, and in the sector as a whole – there will be no acceptable return on the resources and effort being ploughed in. "The problem is, of course, that you can't teach passion. But you can create the environment in which it can blossom … If South Africans see and do science and technology as a necessity rather than revelling in it for its own sake, we're not going to blaze trails as a country. We'll be technicians, not leaders. We'll be consumers of other people's innovation rather than creating and dominating markets of our own."
Hanekom also addressed the importance of bridging the gap between science and society, and said the campus points to the potential for a curriculum to be developed for the effective communication of science. The absence of such dedicated programmes, he said, would not benefit South Africa and the country would remain with a weak science awareness and engagement programme in the country.
"Our scientists generally lack the skills to interact with journalists and use the media as an effective avenue to keep communities abreast of scientific and technological developments. Journalists too, require training to research and write science stories better … I would like to see that mature and innate understanding of communication captured and distilled into a formal science communication curriculum – or science and society studies – to equip future scientists and technologists to market and communicate the value of their work."
 Article source: UNISA
Image 1 – From left: Derek Hanekom (Minister: National Department of Science and Technology) and Prof Mandla Makhanya (Unisa Principal and Vice-Chancellor) unveil the plaque celebrating the official launch of the Unisa Science Campus, Johannesburg.
Image 2 – From left: Prof Gugu Moche (Executive Dean: College of Science, Engineering and Technology) and Prof Maggi Linington (Executive Dean: College of Agriculture and Environmental Sciences) introduced the new names of the Unisa Science Campus buildings.