There are basically three types of people who choose to study:  School leavers, people who are unhappy in their current jobs and those who want to climb the corporate ladder.  All three types of people have one thing in common: A deep desire to improve and become better than they are today.
Reflect for a minute about the passion and energy you started the year with. Did your new year's resolutions include a self- improvement plan, a new job or an increase in earning?  Even though we are nearly halfway through 2013, realise it is never too late to become the best you can possibly be.
Join the growing number of students who register in June and July and get on track to a better future.  So fast track your career,  improve your knowledge, define where you want to go, maximise your success, get a better job, get promoted or find greater happiness in any new venture with our seven tips to maximise your potential.
1. Who are you and what makes you special: Self-awareness is vital when it comes to figuring out what you want to do, what you're best at, what to pursue and what to avoid. Spend some time thinking about your qualities, and then ask your partner, managers, friends and family to give you feedback on your talents. This will boost your confidence as you get to know what makes you different and special.
2. Build real expertise: If you want to be taken seriously, you need to have the right skills and studying assists you by building your knowledge base. Focus on building your experience and credibility with substance and be committed to providing value to people that you work with.  We often do this in the first weeks of employment and then forget about the importance of doing this every single day in our careers.
3. Define what success means to you: Create a clear picture of what success means to you. The more clearly and specifically you can define what your dreams and goals look like, the easier it will be to work your way there. Success may mean earning more money, so write down the amount you want to earn on a piece of paper and then pop this into your wallet as a reminder of your goal on a daily basis.
4. New experiences: There is so much to experience in South Africa and in the world around us. However, we often get into a rut and do the same things daily. Use your free time to explore new things that interest and intrigue you. A habit like this will constantly open you up to new experiences you never imagined for yourself.
5. Make strategic decisions: Don't take the road of least resistance. In most cases there are about 10 critical decisions you'll make in your lifetime that set the foundation for what's to come – your success, happiness, income and opportunities. Make them thoughtfully and you can set yourself up for success from the very beginning.
6. Build and manage your network: Who you know can make all the difference in your pursuit of success. Don't be shy. Get yourself out there. Introduce yourself to new groups and bring new people into your life every chance you get. Your professional outlook and financial position can change dramatically with just a few of the right connections. Build and manage your network carefully to maximize your potential.
7. Create a powerful brand online: The first thing most people do to learn more about you is search for you online. What they find can make all the difference in whether they want to have anything to do with you or not. Take control of your online identity and build your brand with purpose, passion and strategy.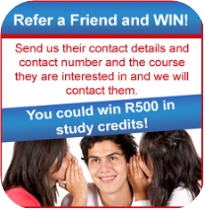 Congratulations To the May Winners
Refer a friend – LINDIWE SKHOSANA, Lindiwe wins R500 in study credits
100% Bursary – GIFT MAFELA, Gift will be studying Human Resources and Labour Relations Course.
Article issued by the Academy of York