Dr Nafiisa Sobratee, a Post-doctoral Fellow in UKZN's Discipline of Bioresources Engineering, recently took top honours in the 3rd Africa-wide Women and Young Professionals in Science competition held in Ghana.
The competition is organised by the Centre for Technical and Rural Agriculture (Netherlands), the International Foundation for Science (Sweden), and the Forum for Agricultural Research in Africa and partners. The competition focused on the theme "Feeding 1 billion in Africa in a changing world".
Sobratee's winning paper is entitled Valorisation of Poultry Litter to Compost: An Assessment of the Pathogen Reduction Potential'. The paper forms part of the research Sobratee engaged in during her doctoral studies which she completed at the University of Mauritius in 2011.
The abstracts of 45 researchers were initially chosen for the competition and the numbers were then subsequently cut down until 20 semi-finalists were selected.
The competition also involved a scientific writing, communication and policy advocacy workshop for semi-finalists, which was held in conjunction with the 3rd RUFORUM biennial conference – titled Partnerships and Networking for Strengthening Agricultural Innovation – in September last year in Uganda.
During the final stage of the competition each finalist made a 15 minute presentation of their research and outreach work to a panel of high-level judges drawn from multi-disciplinary fields of science in Africa. The judges were backed by an expert panel of advisors.
For Sobratee, her travels through Africa allowed her the unique opportunity to engage with Africans outside of her native Mauritius. 'It was deeply enriching to have the opportunity to understand Africa, to see the people, understand their problems and see their day-to-day living,' said Sobratee.
On the heels of the win, Sobratee acknowledges that her work has truly just begun as the challenge to feed Africa is a pivotal concern of hers. She highlighted the need to bring scientific research to the people of Africa in order to "improve their livelihoods and as Africans feed Africa".
'One of the key lessons that I learnt from the competition is the importance of collective action to address Africa's pressing needs in terms of development – as early-career African scientists we share this as a common goal,' said Sobratee.
Sobratee attributes her success at the competition as stemming from the support she received from colleagues at UKZN and the University of Mauritius, as well as friends and family.
Her current research activities focus on the detection of post-harvest deterioration in sugarcane.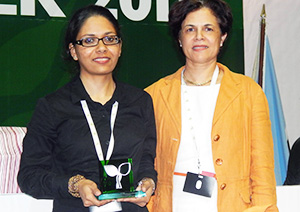 Dr Nafiisa Sobratee with her PhD project co-
supervisor Associate Professor Marie Francoise 
Driver of the Department of Agricultural and
Production Systems: Faculty of Agriculture at the 
University of Mauritius.