Thanks to Stellenbosch University's (SU) association with the prestigious Erasmus Mundus Action 2 scholarship programme, 32 postgraduate students and staff recently received scholarships to pursue study programmes in Europe.
The majority of the 192 Erasmus Mundus scholarships were awarded to Stellenbosch University students and staff. They will participate in three Erasmus Mundus programmes: EUROSA (11 participants), ema2sa (15 participants) and EU Saturn (6 participants). Since the programmes' inception at SU in 2010, the number of participants among students and staff has steadily increased. This year's scholarship recipients include 5 SU staff members, 17 master's students and 10 PhD researchers.
The participants' exposure to European institutions promises to offer enriching academic and sociocultural experiences.. It will be especially beneficial to PhD students as many already foresee a career in academia. "We are happy that they will be exposed to a European institution early on and bring back that knowledge and dynamic to South Africa," says Huba Boshoff, Coordinator: Outgoing Exchanges at the Postgraduate and International Office.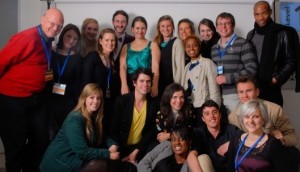 In addition to creating international academic opportunities for staff and students, the Erasmus Mundus programmes also aid in fostering closer relationships between Stellenbosch and European and South African institutions alike. "It's a great opportunity for us to work with other universities within the context of South Africa. We've been part of an interesting mix of both universities and students," says Boshoff.
As a sign of the continuing strengthening of the SU's relationship with Erasmus Mundus, the university has once again been approved to participate in the EUROSA scholarship programme.
The University of Antwerp coordinates the EUROSA programme. It offers postgraduate students and staff the opportunity to spend a period of 1 – 36 months abroad at a partner institution. The scholarship provides a monthly allowance, health insurance, tuition fees (if applicable) and travel costs from South Africa to Europe.
For more information about EUROSA and the Erasmus Mundus programmes of which Stellenbosch University forms part, contact Huba Boshoff at the Postgraduate and International Office, contact Huba Boshoff at the Postgraduate and International Office: +27 21 808 2606 | [email protected] or visit the website: http://www0.sun.ac.za/international/erasmus-mundus/eurosa
Article issued by University of Stellenbosch