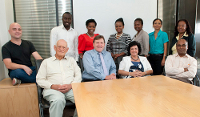 Five of University of Johannesburg's (UJ) postgraduate students were each awarded a Mandela Rhodes Scholarship for the 2013 academic year. The funding aims to groom students into future leaders with principles of education, reconciliation, leadership and social entrepreneurship skills.
The students were announced at a special function at Madibeng building on Kingsway campus on Thursday, 27 February 2013. Prof Amanda Dempsey, Executive Dean: Faculty of Science, and Prof Daneel van Lill, Executive Dean: Faculty of Management congratulated the students for showing exceptional determination in education.
To qualify for the scholarship, students must be from an African country and have at least 70 percent in all their major subjects. The scholarship covers tuition fees, meals, accommodation, books, travel fees and an allowance. The programme is open to students under 30 years of age.
Students also have to portray outstanding leadership potential in community engagement projects during their studies after they are selected for the scholarship. Only students studying towards a postgraduate degree are eligible to get the funding and are thereafter sponsored for two years.
This year, Mr Franklin Kum (doing his second year in Masters in Development Economics), Miss Rutendo Usayi (BCom Honours Accounting), Miss Thokozile Mcopele (BCom Honours in Strategic Management), Mr Nicholas Nhundu (MCom Financial Management), and Miss Anthea Caroline Paelo (MCom in Economics), will be representing the University in the programme.
Some of students that were present at the function had this to say, "This means a lot to me. I see it as a challenge because it sets a standard for me to do better. I feel privileged. Being part of the programme means one takes on the role of a leader whose traits inspire others to become something better in life," said Mr Kum.
"This is an opportunity and a platform for me to contribute to society in a positive way. I feel that I have been given hope and light to reach my full potential," said Miss Usayi.
The
Mandela Rhodes Foundation
introduced the scholarship programme in 2005.
IMAGE:
Current and previous Mandela Rhodes Scholarships beneficiaries at UJ gathered at a special celebratory function on Kingsway campus with the Executive Deans  (Faculties: Management and Science) and Prof Konrad van Warmelo and Prof Sivan Chetty.
For more information on
UJ