Together We Pass tips for pain free registration with Unisa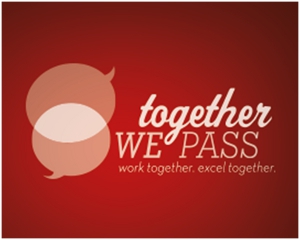 Written by Tabitha Bailey
Registration time with Unisa is always a little worrying, and frustrating.  Marks can be slow in arriving, queues on campus can be endlessly long, and the changes to the degree programs are causing a lot of anxiety and frustration.
Together We Pass has created some extra information to help, from blog posts about what to do with poor Unisa exam results, to tips on the Unisa registration process, to pages of Unisa contact details.
Here are some of the top tips we think you should take note of when registering for your Unisa courses, supplied to us by one of our long term study group members:
Check all your outstanding modules – what is left to complete?  In this way you can keep track of the changing course codes, and ask Unisa to rectify any mistakes that might have been made on modules you have already completed.
Find out what the textbook you need, and find a good second hand shop or online portal to buy it.  Pimp My Book, and Stuvia both assist with this.
Make sure you mix subjects you think you will enjoy with subjects you know you will find hard or boring.  You don't want to demotivate yourself by doing all your difficult subjects together in one term!
Check out exam dates!!! They are only provisional, but you can avoid some terrible exam blues if you choose three subjects all have exams within one day of each other! Check that your exams are spaced.  There is the risk Unisa may change them, but at least you have the best chance of a spaced exam timetable.
The next big thing is how to contact Unisa if you have questions.  We know this can be very frustrating, but I assure you Unisa is doing their very best to help. They are overwhelmed by ever increasing numbers (I recently heard they have now topped the 400,000 mark) so it can be difficult for staff.  Everyone is doing their best.
Here are some of the Unisa contact details that have found to be useful, as well as some tips:
DO go to your local campus if you possibly can, making sure to take a full list of your queries, your student number, as well as some snacks and a bottle of water to keep you going as you wait.  The staff are generally great, and can assist immediately.
DON'T try to call Unisa.  It is usually a fruitless exercise, causing frustration with 0 results
A well hidden secret email address was sent to use by one Unisa student, who said she got extremely quick help: 

[email protected]

I found early in term this email address works, though about now when Unisa is swamped it can take a while to get a reply: 

[email protected]

If you are STILL having problems with your account saying you were absent from exams here are two contact details for the exam department: 

[email protected]

and

[email protected]
We wish you all the best with your studies this term, and hope to see you in our study groups at Together We Pass.
Phone and fax: 021 447 5288
Email:  [email protected]
Twitter:  @togetherwepass
Facebook:  www.facebook.com/togetherwepass