The Future Stars Awards is back, inspiring more young people to reach for their dreams!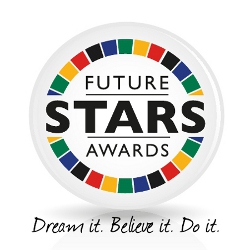 The future lies in the hands of the youth. The brilliant young minds who take charge today will be the pioneers of a brighter and better tomorrow. Sadly, of the 1.2 million children who start school every year, only 5% will complete a university degree. That's why Argo is working together with TSB Sugar, Mindset Learn TV & MetroFM to inspire talented young minds to become future stars.
Click here to read about previous winners' testimonials and success stories.
As a multi-media communications company, Argo is passionate about supporting achievers and bringing lasting change through education and youth media. Argo has launched many education-focused magazines and handbooks. Living up to their brand values, Argo aims to inform, involve and inspire more than 1-million top achieving pupils, students and the teachers who influence them.
The Future Stars Awards is Argo's latest initiative targeted at aspirational youth under the age of 21, to motivate them to believe in themselves and in educations' power to help them achieve their dreams. With the massive 6 year success of the Stars in Education Awards, through which Argo recognises the most inspirational and dedicated teachers in the country, Argo decided to launch a campaign targeting aspirational youth. Motivated teachers can only really make a difference when they deal with pupils who are inspired to learn.
Having someone who believes in you is a powerful motivator that gives you the support you need to realise your full potential.
Sadly, so many of our young South Africans don't have a powerful support system to keep them working hard to build a better future, when sometimes it's easier to give up.
That's why the Future Stars Awards is recognising the future stars out there – those learners willing to stand in long queue's, walking in the blistering sun to school in the hope of a tertiary education.
By recognising their desire for a brighter future and believing in them, the Future Stars Awards is inspiring these learners to believe in themselves and how the power of education can help them reach their dreams.
Click here to view the Top 10 2014 Future Stars Awards finalists
Follow us on Twitter: @FutureStarsSA
Join in on the conversation: #DreamItBelieveItDoIt
Click here to read more on the 2014 Future Stars Awards