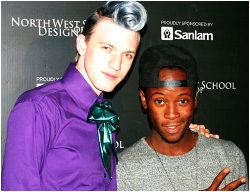 When 18-year-old Quincy Thabang from Sasolburg heard the news that he'd won the Gert-Johan Coetzee bursary to study fashion design, the first person he phoned was his grandma. "I'm so excited about this wonderful opportunity, and I wanted to share that with my Granny immediately," says Quincy, who will start his three-year degree course at the Northwest School of Design in Klerksdorp next year. Gert-Johan Coetzee awarded the teenager the R160 000 bursary on the weekend at the NWSD graduation show.
Says Coetzee, "When interviewing the shortlisted candidates I was looking for someone with a specific attitude, that spark that suggests they have what it takes to make it as a designer. Quincy convinced me that he had that mixture of passion and hunger for success." The designer believes that business sense and market savvy is as important as design talent. "My dream for each winner of the Gert-Johan Coetzee bursary is that they become the next big thing, someone who will make their mark in the very competitive South African fashion industry. I am proud to be able to play a role in growing talent for the industry that I am so passionate about."
As part of his bursary, Quincy will intern at Gert-Johan Coetzee's busy design atelier in Linden, and will be mentored by the designer throughout, a fact that the youngster is thrilled about. "So far, I have only ever sketched designs and chosen fabrics, so I can't wait to start learning all the technical skills to see my designs come to life!"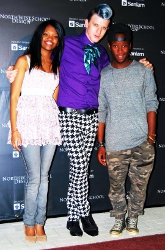 Coetzee himself won the NWSD Designer of the Year Award when he graduated in 2005 and this year was proud to hand that same award to the winner of the first-ever Gert-Johan Coetzee bursary, John Wayne Keyser, who has just completed his second year. "For a second-year student to win this award is such an achievement and it really validates the bursary. I know that John Wayne and last year's bursary winner, Prudence Kau, will welcome Quincy to the school, and look forward to watching them all grow."
The quality of the entries for the Gert-Johan Coetzee 2014 bursary was so high that NWSD decided to award a second bursary to another finalist. Rebaone Malane, 19, from Mafikeng, won a R130 000 bursary to study the brand-new three-year Fashion Management and Communication course.