SA youth urged to 'make NDP yours'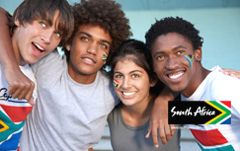 By Brad Morgan
Young South Africans were urged to engage with and take ownership of the country's National Development Plan (NDP) at a youth dialogue session hosted by Brand South Africa in Durban on Monday evening.
"The NDP is about the future and the youth, so our young people must look at the document and find out how they can make it work and how it can actually enhance their opportunities in skills development, in training, in improving the quality of life for all," KwaZulu-Natal Premier Zweli Mkhize told the large gathering at Durban's Hilton Hotel.
The NDP is a policy blueprint for eliminating poverty and reducing inequality in South Africa by 2030. Among other things, it identifies the key constraints to faster growth and presents a roadmap to a more inclusive economy that will address the country's socio-economic imbalances. Monday's event was one of a number set to take place around the country to encourage young South Africans to help define and carry out the plan.
Citizen buy-in needed
The key message all speakers were keen to get out is that for the NDP to work, buy-in from all citizens is required.
"We should all take responsibility and play our part," Khulekani Mathe, the acting director-general of the National Planning Commission, told SouthAfrica.info on the sidelines of the event.
"Talking about 2030, it's not about the older guys, it's about the youth. These guys are going to inherit a messed up world unless we get them involved in making this a better country."
As one, the speakers stressed that education was key to meeting the goals of the NDP, the three most important of which are, according to President Jacob Zuma in a recent address: "Raising employment, improving the quality of education, and building a capable developmental state."
Education as force for change
"The only thing that I know that changes the fortunes of someone who comes from a small village like me is education," said Mathe. "I don't know of anything else; but, of course, it requires hard work."
During his speech, Mathe warned: "If we continue along the same trajectory, things will implode. A new growth path needs to be found. Economic growth is absolutely critical. If things are left as they are, we are in trouble. Labour unrest suggests that the situation is dire and a solution is needed. It is everybody's problem. A new path must be found."
Leading the way for the youth was the evening's MC, Lynette Ntuli, the head of the World Economic Forum's Global Shaper Durban Hub.
WEF Global Shaper, Ntuli explained, is about the youth playing a part in the direction the world is taking. The youth are tomorrow's leaders, thus plans for 2030, could be discussed without the youth, she said.
Ignite South Africa
With Monday's session falling on 24 June, the opening day of Wimbledon 2013, it was something of a surprise to see former Wimbledon runner-up Kevin Curren in attendance.
Curren is involved with Brand South Africa, helping to create exposure for the brand on different platforms in South Africa and Africa, including through Ignite South Africa, which aims to bring young people together to help build South Africa's future.
Ignite South Africa has already had "some amazing success stories," Curren told SAinfo. "Part of what we do with television is that we are going to tell those success stories and how they have made a difference in their communities, and that can work together with what the person next to you is doing."
Brand South Africa's Leo Makgamathe said he was thrilled with Monday's turnout and active response from the young people of KwaZulu-Natal. Further NDP Youth Dialogue Sessions are planned for Johannesburg on 26 June, for the UCT Graduate School of Business in September, along with other events in Limpopo, the Free State and the Northern Cape.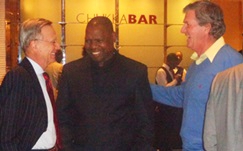 IMAGE: KwaZulu-Natal Premier Zweli Mkhize (middle) with businessman Terry Rosenberg and former Wimbledon runner-up Kevin Curren at an NDP youth dialogue session in Durban, 24 June 2013 (Photo: Brad Morgan)
Read more: SouthAfrica.info