Journalism students call it a wrap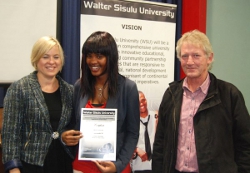 Walter Sisulu University's final year Journalism students captivated audiences with a visual feast at their third annual public documentary screening held at the East London First Baptist Church recently.
The films produced by the students reflected an array of pertinent societal issues spanning an unnerving encounter with a "cyber stalker" to delinquents at a children's shelter in Grahamstown who have become menaces to society.
Students pitched their ideas to a panel of judges from local organisations and a media practitioner in their second year in order to be one of the six documentaries that would be produced. Furthermore, the third year students had only four months to research, script the production and shoot the documentary.
"In order to be chosen, documentaries had to be relevant to society, logistical, have television appeal, executable given the time constraints, and have television appeal. The producer had to be a good student," says broadcast lecturer, Sharon Cumming.
At the end of the he night, it was Chido Mbambe's "Fatal Attraction" documentary that walked away with the biggest award of the night, the People's Choice award which was inspired by her personal experience with a stalker.
"I was stalked last year, and when it happened to me I thought it was an isolated incident but the more I started talking to people about it, I realised that this thing happens quite often. And yes, I did expect to win this one because my topic is unique and had not been done before," she says with a wry expression.
Other awards went to Thandeka Mgqibi for "Daddy where are you?" (Best Director), Thabo Mongoato for Visual Silence (Best Camera). Chido Mbambe took a second award for "Fatal Attractions" when she secured the Best Editor award.
Walter Sisulu University's Acting Deputy Executive Dean of the Faculty of Business Management, Sciences and Law, Dr Adele Moodley commended the Department of Media Studies and the lecturers for their tireless efforts.
She believes it was a positive experience for everyone who came to see what the students could do, considering their meagre resources with which they produced the engaging documentaries.
Other documentaries premiered included Visual Silence, Rainbow, a True Reflection and Money Down The Drain. – East London, 24 June 2013
ON THE OTHER SIDE OF THE CAMERA: Overall winner Chido Mbambe (middle) is all smiles after scooping two awards on the night. She is flanked by lecturer Sharon Cumming (left) and Media Studies HOD Phil Schneider.
 Article and image source: Walter Sisulu University