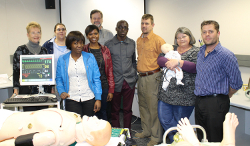 Faculty members in Health and Environmental Sciences recently received training in the Emergency Medical Care (EMC) simulation laboratory – which is situated in the new wing of the Dirk Coetzee Building – by the technical experts from Survival Technology, Gauteng. The Central University of Technology, Free State (CUT) staff members are now able to prepare, configure and maintain the SimMan 3G medical scenario simulator.
"The state-of-the-art simulation laboratory provide students studying to become our next generation health care professionals with realistic opportunities and experiences of patient care, allowing for interactions in a safe environment without putting real patients at risk is a key factor in medical simulation" said Prof. Hesta Friedrich-Nel, Head of the Department Clinical Sciences.
She said that more than 75 simulated patient events have been conducted in the EMC simulation laboratory exposing the EMC students to a variety of medical and trauma emergencies in various realistic settings such as a residence, a shed, a construction site, an airport, an office, an alley – all set up in the simulation laboratory.
This training enabled human patient simulators to provide realistic anatomical and physiological features and responses, as well as an opportunity for students to develop competence in clinical procedures, patient interaction, professional interaction, etc.
The Department of Clinical Sciences focuses on the programmes EMC and Radiography both fields that requires students to have exemplary training on patient care.
The newest addition in the faculty is SimMan 3G; a wireless, computer-driven adult human patient simulator who breaths, talks, moans, cries, vomits, sweats, urinates, bleeds, turns blue and fits – simulating real-life patient actions. SimMan not only has a heart rate sound generator, but also breathing and bowel sounds.
Image(s)
For realistic training and better patient care once student enters the work environment, CUT recently added the SimMan 3G to the simulator family in the Faculty of Health and Environmental Sciences. This real-time integration of simulation into the curriculum affords students the chance to repeat training on a simulation patient and not have to learn techniques on real patients. During the training session, CUT staff and Survival Technology team members – Ms Sheila Addison, Survival Technology, Ms Mareli Mitrovich, CUT, Ms Eulandi Ntimane,CUT, Ms Refilwe Nhaladi, CUT, Mr Allan Pollard, Survival Technology, Mr Brian Ngobeni, CUT, Mr Rod Campbell, CUT, Ms Rika Jammine, CUT, and Mr Mark Sierra, Survival Technology.
Article issued by CUT