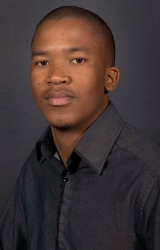 NMMU's Sanda takes leadership to next level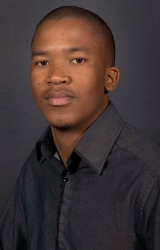 Having been involved in underage-drinking himself, NMMU student and Top 3 One Day Leader contestant Sanda Ncama now co-mentors five teenagers in a new 13-part televised reality series, Future Leaders, on SABC 1.
Sanda, 23, a final-year music education student from King William's Town, says the show is about young future leaders all of whom are teenagers who have previously experimented with alcohol. The teenagers' awareness of the devastation that underage drinking has had in their communities inspires them to make a real difference and become role models for their peers.
The teenagers are Tayla Tomplinson, 17, from Port Elizabeth, Thobile Phantshi, 16, from Durban, Nkosana Banda, 17, from Johannesburg, Ndimphiwe Lwandle, 17, from Nelspruit and Chriselda Booysen, 16, from Kimberley. Sanda, and another two young role models, Ndumiso Hadebe and Seadimo Tlale, are their mentors.
''Though I was into alcohol myself as a teenager, I used to speak life to my life. I told myself that one day I'm going make it big. I have created the best vision possible for myself and now I've become what I dreamt," says Sanda.
He says the experience he's gained on both One Day Leader and Future Leaders has been incredible.
"It put a stamp on my purpose, calling and conviction as a young social activist who is passionate about South Africa."
He says the experience of flying to different provinces for the programme has humbled him. "I'd sit on the aircraft and wonder to God what I'd done to deserve all this fame and fortune."
At NMMU Ncama is the Unitas residence head and is actively involved in community work.
Sanda has big plans for 2014.
"I want to launch into the business of public speaking. Of course I'll never stop serving God and His people. That is a life-time job,'' he says.
Future Leaders can be seen every Tuesday on SABC 1 at 22:00 with repeats every Sunday at 12:30 until the end of January 2014.
Article issued by NMMU