NMMU graduate exhibition showcases bold new talent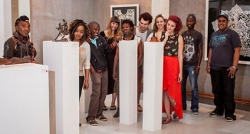 Do yourself a favour and get down to the NMMU North Campus Art and Design building from Monday to Friday (until 22 November) from 9am to 4pm for a bold art talent adventure.
From a glass depiction of Biblical figures to print illustrations of the importance of outdoor play in a child's life, Nelson Mandela Metropolitan University's annual Graduate Fine Art exhibition showcases the work of third-year diploma students and fourth-year BTech degree students.
The importance of outdoor play in a child's life is shown in the work of BTech Fine Art (printmaking) student Busisiwe Ncomanzi. She illustrated various childhood games and activities which can mould an individual and attempted to explore how play has evolved over time due to the influence of technology and the media.
Nishil Vagmaria, BTech Fine Art (illustration) student, entitled his work ''Revolution in the Pipelines'' and deals with socio-political issues using satire to convey messages of anti-conformity. His work is influenced by graffiti, street art styles and traditional artistic techniques.
In BTech Fine Art (printmaking) student Victoria Urquhart's work aesthetics and ethics are intertwined. Four of her five themed works depict individual classical nursery rhymes. The fifth artwork combines these four rhymes with a new South African rhyme, suggesting that the universal problem of human rights violations and the curbing of freedom of speech can be understood from a South African perspective.
The work of ceramic, sculpture and stained glass students is also on display.
Article issued by NMMU