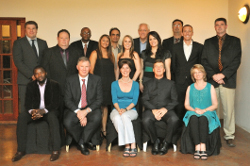 Fourteen lecturers of the North-West University (NWU) were awarded as the most inspiring lecturers for 2013.
It is the passion, commitment, enthusiasm and motivation of these lecturers that won them the Rapport Top Lecturer Award to the value of R50 000 each.  The prize money was presented to the winning lecturers at a gala event in Potchefstroom on 13 November 2013.
This is the fourth year that these awards are being made. The students themselves chose the winning lecturers.  This year students again voted twice – at the end of each semester – for their favourite lecturers.  The results of the two semesters were combined to obtain one winner per faculty. Students' participation in the competition shows a growing interest.  More than 44% of the eligible students, 11 432 in total, are involved in the project.
During the prize-giving function, Dr Theuns Eloff, vice-chancellor of the NWU, said the project acknowledges the huge role that students play as stakeholders and participants to teaching-learning.
He said the awards do not only acknowledge lecturers who walk an extra mile and take students to further heights. "It activates healthy competition on various levels: inter-campus; inter-faculty and inter-residence."
According to Dr Eloff the project also teaches student leaders to be skilful and innovative in keeping on making more and more plans to get students involved in the participation. Ms Inge Kühne, news editor of Rapport, said that one can never be too inspired. "How big is your task? Much bigger than the number of students in your class, or the various campuses on which the university functions. Your task is not only to educate the students. By doing this you are also busy making the country stronger." She congratulated the winning lecturers on behalf of the editor of Rapport, Mr Waldimar Pelser.
The winners on the respective campuses are as follows:
Mafikeng Campus:
Lemar Olivier – Faculty of Commerce and Administration
Andre Bechuke – Faculty of Education
Pieter-Henk Boer – Faculty of Human and Social Sciences
Dr Ashmore Mawire – Faculty of Agriculture, Science and Technology
Potchefstroom Campus:
Minnet du Preez – Faculty of Health Sciences
Prof Jorrie Jordaan – Faculty of Theology
Alicia Fourie – Faculty of Economic and Management Sciences
Dr Aubrey Golightly – Faculty of Education Sciences
Prof Thys Human – Faculty of Arts
René Koraan – Faculty of Law
Dr Colin Read – Faculty of Natural Sciences
Frikkie van der Merwe – Faculty of Engineering
Vaal Triangle Campus:
Wilma Coetzee – Faculty of Humanities
Leonard Loftus – Faculty of Economic Sciences and Information Technology