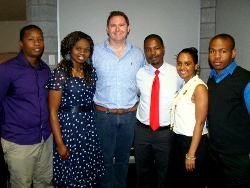 NMMU accounting comes out tops – again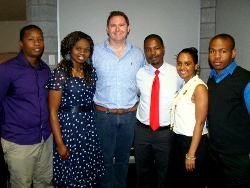 Nelson Mandela Metropolitan University's School of Accounting has done it again by producing top results in the South African Institute of Chartered Accountants (SAICA) Initial Test of Competence (ITC) examination for chartered accountants.
The university's BCom Honours (Accounting) graduates of 2012 obtained a 97% pass – as compared to the national average of 86% for first time attempts – with 71 NMMU graduates passing the exam.
The ITC examination (previously known as Part I of the Qualifying Examination) is the first of two professional examinations required for qualification as a chartered accountant.
Further success came with the news that all 15 Thuthuka Bursary Programme students who successfully completed the BCom Honours (Accounting) programme in 2012, passed the SAICA exam.
Professor Frans Prinsloo, Director of the School of Accounting, says he is delighted that the pass rate achieved by NMMU students continues to be among the highest in the country.
"We are very proud of our BCom Honours (Accounting) graduates of 2012. These results reconfirm the high quality of the programme offered by Nelson Mandela Metropolitan University to educate students wishing to become chartered accountants."
More than half of the NMMU graduates who passed this national examination are African, Coloured and Indian.
"This attests to the success of our transformation initiatives, including our Thuthuka programme," says Prof Prinsloo.
IMAGE: NMMU Thuthuka accounting  students (from left) Sifundo Zondi, Gcobisa Sotashe, Wilfred Mbili, Birischka Smith and Mogafe Prince Moloto, seen here with NMMU alumnus Russell Raath who now works for change agents Kotter International, are among the 15 bursary holders to have passed the South African Institute of Chartered Accountants (SAICA) examination, in which NMMU received a 97% pass overall.
For more information on NMMU or visit www.nmmu.ac.za