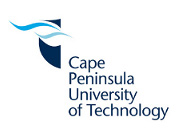 April is energy month at CPUT.
During the next few weeks, the who's who in the energy sector is set to descend on CPUT to participate in the Domestic Use of Energy Conference and the German South African Research Lecture Series: Energy Sciences.
The events will explore the topical issue of sustainable energy.
During the first week of April, international and local experts are expected to provide insight into the importance of energy conservation in the developing world at the Domestic Use of Energy Conference, which will take place on the Cape Town Campus.
The conference will explore innovative methods, which can be used to reduce pressure on the electrical grid.
On 17 April, a lecture titled "Solar Power and Energy Supply of the Future" will take place at the Bellville Campus.
The lecture is organised by the German Academic Exchange Service and forms part of the German South African Research Lecture Series on energy sciences.
The series, which is open to the public, will showcase research excellence from both countries.
Speakers includes CPUT's energy expert Prof Ernst Uken, Prof Vladimir Dyakonov from the University of Würzburg and Paul Gauché from Stellenbosch University.
The event takes place on April 17, 2013 at 16h00 in the Gencor Building Lecture Theatre, Bellville Campus.
Article source: Cape Peninsula University of Technology