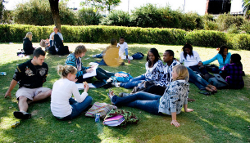 Every year a staggering 40% of students drop out of university during their first year, but the South African Education and Environment Project with its bridging year programme is making sure a few lucky matrics have a good chance of not becoming part of that statistic.
Nonkululeko Monatisa is one of those lucky matrics. In 2009 she got less than 30% for science. At the end of a year with the non-governmental organisation she rewrote the exam and got over 60% for it.
"Many pupils from disadvantaged schools had a poor education, they haven't learnt computer skills, they didn't get career guidance and they might have been pushed into doing subjects they didn't want to do," said the organisation's director, Jane Keen.
"If they manage to get past the daunting university application process then many of them are overwhelmed by the myriad demands of university life, for example, having to write essays on a computer."
Operating since 2003 the year-long, free programme offers pupils the chance to rewrite two to three matric subjects to improve their grades and succeed at university with the help of tutors, career counsellors, computer classes and critical thinking classes at no cost.
Progress
The programme has seen much success.
In the last four years almost 98% of the programme's graduates have accessed higher education, training or employment. Of these, nearly 83% enrolled in university or further education and training colleges, where they have maintained a more than 90% retention rate.
Nonkululeko Monatisa is currently in her third year studying chemical engineering at Cape Peninsula University of Technology (CPUT).
Monatisa has also benefitted from the organisation's tertiary support programme.
"I used to live in Khayelitsha, which is two train rides away from the university. Sometimes I was late for classes but then [the South African Education and Environment Project] helped me find a place nearby and now it's much better … They helped register me at the university, they help me financially, they have counsellors you can talk to if you have any problems.
Monatisa is excited to one day be a chemical engineer, "especially as a female!"
"Without education you won't go far especially if you have an underprivileged background, but with it doors will open up for you.
Struggling
Monatisa comes from a disadvantaged background.
She and her two siblings were raised by their domestic worker mother and "you know about domestic workers' salaries, they're not that good", she says, "my mother managed to put food on the table and buy us clothes, but we still struggled".
Their mother would only get home from work at 7pm so Monatisa would handle the household chores like cooking, cleaning and taking care of her siblings until then.
At her school, learning and teaching were also littered with distractions.
"Classes were overcrowded and there were other things too, like criminals sometimes coming into the classrooms demanding money," she said.
Her school didn't have computers or a library, so before she started the bridging year programme Monatisi "didn't have a clue about computers".
"If I had've gone straight from school to CPUT then, yoh, it would've been hard. You know, I wouldn't have coped."
Monatisa knows that it is the "people with education, people with skills", that can make South Africa "a developed country". By doing well in her degree she won't only "be saying thank you to the South African Education and Environment Project", she will be contributing to the development of her country.
Go to the organisation's website for more information on its bridging year and tertiary support programmes.
Article source: Mail & Guardian