Alice Campus Orientation kick-starts on a very good note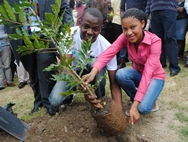 The first day of the
Alice Campus Orientation
for first year students got off to a very exciting start for the incoming students, the university management team and the Student Affairs Office who with the assistance of the Institutional Advancement Directorate made the affair a very informative and exciting one for the incoming first years.The students were welcome into the Fort Hare family by the Dean of students, Mr Brian Gallant, the acting Vice Chancellor, Dr Mjwara, the DVC of Academic Affairs, Professor Larry Obi as well as the RSC President, Mr Rawana.
The addresses served as a source of encouragement and motivation to the students, reminding them of how valuable an investment of time and resources they have made by going to an Institution of Higher Learning.
The new environment can be a very daunting experience for incoming students, the majority of whom have never ventured beyond their homes and communities. A moment to reflect on the true intention of being in university, making the students aware of the various factors that could influence their learning experience and affect seamless progress was an essential part of the programme. The students were also congratulated for achieving the good results that enabled them the opportunity to attend an institution of higher learning.
Dean of students, Mr Brian Gallant encouraged the students to remain focused throughout their tenure at the university and to reap all the rewards of being enabled an education to make their parents and sponsors proud. In his address, Dr Mjwara inspire the students towards a path of self-introspection, reminding them that this was the most optimal time to carve themselves into the effective leaders that the
University of Fort Hare
is renowned for.
The day concluded with a tree planting ceremony that symbolises the students' rooting into an institution that would nurture them into realising their highest potential.
The remainder of the days of the Alice campus orientation will comprise an introduction into the various student services available for students to assist them with non-academic requirements, a faculty orientation day in which students will be availed an in-depth introduction into their Faculty and degree programmes, a tour of the Library and its services as well as additional information into the services provided by the Teaching and Learning Centre.
For more information on the University of Fort Hare,
click HERE