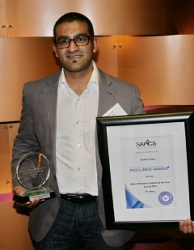 Stellenbosch University graduate, Mr Bashier Enoos won the Higher Education Student of the Year award for his BComm Honours thesis at the Supply Chain Management Education Excellence Awards held earlier this month.
The annual Education Excellence Awards recognise achievers in supply chain management education. It is hosted by SAPICS, a professional membership-based association for individuals and organisations in the supply chain field.
Mr Enoos, who is working as a Solution Analyst at UTi in Gauteng, completed his BComm Hons in Logistics Management (cum laude) in 2011 at Stellenbosch University. He was nominated for the award by Prof Johan Louw of the Department of Logistics and his employer.
His dissertation dealt with the public health care system and the need for significant supply chain management interventions. Presented to, and subsequently implemented by, the Cape Medical Depot, it included an analysis of problems within the business as well as recommendations for improving business operations.
Mr Enoos also prepared a database of the Depot's pharmaceutical products, with a visualisation tool to monitor its products over a two-year period. Having looked at the variability in demand for a range of items by Western Cape clinics, he recommended different ordering patterns.
Article and image source: University of Stellenbosch