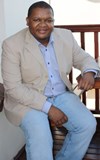 Final year LLB student, Aphiwe Nkosimbini has been selected by the German Partnership with Africa Foundation, to attend a political economy conference in Germany and Namibia.
Mandated by the German Ministry of Economic Cooperation and Development, the itinerary includes the rare occasion of having tea with the German President, Joachim Gauck, in Berlin on 27 August.
"I am quite delighted," he says. "It's a massive honour and privilege and I'm looking forward to contributing to the success of the programme.
Nkosimbini wrote a critical evaluation of the constitutional make up of Germany and Namibia, focussing on the levels of inequality that exist in these countries and how this relates to their respective economic models.
After taking part in an interview via Skype, he was pleasantly surprised to learn that he had been accepted. Having obtained a BComm (Law) in 2011 which included an Economics major, he feels confident that his interests and education has equipped him in being a strong ambassador.
"Studying courses ranging from Criminal Law, Management and even Philosophy has exposed me to a multitude of disciplines which have enabled me to gain a broad-based understanding of our socio-political context," he says.
In 2012, he was selected as one of five Rhodes students to participate in a series of Social Democracy and Political Economy conferences for young South African leaders hosted by the Friedrich Ebert Stiftung Foundation, in conjunction with the Fort Hare Centre for Leadership Ethics in Africa.
The conference involved discussions with key policy-makers, academics and business leaders from both Germany and South Africa. His immediate focus is to finish his LLB and launch his career next year as a candidate attorney at Webber Wentzel, a prestigious law firm in Cape Town.
Taking place from 17 August to 3 September, Nkosimbini will travel to Berlin, Cologne and Munich to attend talks with political decision-makers, personalities from civil society and industry, academics and journalists.
The second 'leg' of the exchange takes place in Namibia in March 2104. Here the delegates attend a series of lectures to consolidate and debate what they experienced in Germany. He notes that there are many similarities between South Africa and Namibia in terms of their political landscapes. "I am keen to see how they have negotiated their first 23 years of democracy; the challenges they face and opportunities that can be created." The group will also collaborate on producing an interdisciplinary paper.
By organising a five-week exchange programme, the Partnership with Africa Foundation intends to help overcome the lack of knowledge that exists between African reality and German perception and, vice versa.
According to their website: "The personal, intercultural encounter between young and upcoming academics and the interdisciplinary exchange are aimed at promoting advanced professional training and at acquiring multipliers for a German-African future that is based on the spirit of partnership."
'Go Africa…Go Germany' is a four-week exchange programme which is part of the 'Partnership with Africa' initiative launched by the former Federal President of Germany, in 2005 and is now implemented for the seventh time. Graduates under the age of 28 from several African universities are invited to apply, being required to write an essay on legal and economic principles. An additional 11 students from Germany are also invited to take part in the exchange.
Photo and story by Anna-Karien Otto
Article issued by Rhodes University