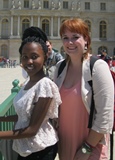 Two students from Rhodes University School of Journalism and Media Studies, fourth year radio student Georgina Selander and third year television student Bongeka Masango were selected to join two French students from the Centre de formation des journalists de Paris (CFJ) to produce multimedia stories during the 'South African Season in France 2013' for a month between June and July.
The France-South African Seasons 2012 and 2013 is a joint initiative between the two countries to strengthen their relationship through arts and culture. Last year South Africa hosted the French leg of the Season between July and November.
The students embarked on an all-expenses paid cultural safari in a Seasons branded 4×4. They interviewed artists and covered live events, and produced multimedia content, articles, stories, Q&A's and radio sound bites for two blogs in French and English.
Their stories can be seen on their blog http://blogpartenaire-safariculturel.blogs.liberation.fr/ and their second blog http://plus.franceculture.fr/factory/safari-culturel contains educational stories to teach the French about South Africa.
Bongani Tembe, commissioner-general of the Seasons, told Media Updatehttp://www.mediaupdate.co.za/?IDStory=55505 that the students were selected "based on their communications skills" which they used to produce a "bold and image-driven blog".
"It was my first time working outside Grahamstown as a journalist," said Masango, who studied French for five years. She said the experience was not only something completely different, it also taught her to be a better journalist.
Selander studied French for eight years and she believes that learning a language is about confidence and practice, and the same applies to journalism. She used to practice French by speaking to Congolese car guards in Cape Town.
Masango was impressed by how receptive the French were of South African art. She went to a photo exhibition in an amphitheatre in Arles in the South of France and felt proud to be South African and to see how well South Africa was represented in France.
Selander felt moved by the "strength of spirit of South African people and the energy", especially in South African dance performances. She said the dancers were vibrant and sweating, even the French commented on how amazing their energy was. "I felt really proud of my country," she said.
Masango and Selander met big names from the South African art industry, including Zanele Mholi, John Fleetwood, and Mamela Nyamza. Their stories are available on the blog.
Selander and Masango had off days to explore the country. For Masango this meant "mainly eating crazy food". They ate a lot of duck, beef, croissants, baguettes, and cheese. She was amazed at how the Eiffel Tower was visible from anywhere in Paris.
Selander visited the Père Lachaise cemetery where Edith Piaf, Oscar Wilde and Jim Morrison had been buried. She said, "It was a dream come true."
The experience made her realise the power of dreams, how important it is to have a dream, yet upon her realising her dream to go to France she couldn't help to be reminded of a passage from her favourite book The Great Gatsby, "…his count of enchanted objects had diminished by one".
Article issued by Rhodes University