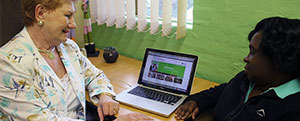 info4africa Database and Quality Assurance Manager, Mrs Ann Jack and Data Collector, Ms Thuli Mchunu show off their new website.
Info4africa, a self-funded Centre of the School of Applied Human Sciences and a specialist data collection agency focusing on health, wellbeing and development in South Africa, recently launched its revamped website.
Director of info4africa, Mrs Debbie Heustice, said: 'Over the past year we have significantly expanded our services and are currently engaged in data collection projects for a variety of local, national and international agencies. In line with this expansion, info4africa's new website outlines the wide range of programmes and partnerships we are involved in.'
These included the National Referral Database and Provincial Directory Series; Other Database Projects; Networking Forums, including a full listing of presentations, speakers and information on upcoming events, and a vibrant Culture and Arts Programme.
info4africa's Annual Report 2012 can be accessed via the new website. The report details the organisation's 2012 successes and outlines their transition from the Centre for HIV/AIDS Networking/HIV-911 into info4africa.
info4africa staffer Ms Mapekula Yandisa said: 'The website is great, it contains lots of information and the other links work out perfectly.'
The new info4africa website was designed and developed by info4africa's technology partner, Always Active Technologies (AAT). Specialising in Mobile and Mapping Solutions, AAT also provides mobile technology solutions to info4africa.
Business Development Manager at Always Active Technologies, Mr Alan Haarhoff, said: 'Extending our involvement with info4africa from USSD and Mobi through to their new website is simply a privilege for us. This is because we believe that the best services in the digital age are a blend of human passion and great technology.  By creating a responsive designed website (supported on PCs, tablets and smart phones) for info4africa we hope we are doing our bit to help them keep making a difference in people's lives.'
Community Grants Co-Ordinator at the United States Consulate in Durban, Ms Joslyn Walker, added: 'The ease of navigation through the site and its simple, clean layout belies a complex organisation and multitude of services that are offered by info4africa. The layout is crisp and clear, loads quickly (even on mobile) and is user friendly.
'Being able to access the database, especially so easily from a mobile device, means that even when I am in the field and working from the back of my car I can access information and data on service providers, clinics, NGOs and other partner organisations which can support HIV care and support for community based organisations.'
'This is a huge benefit to my work as a grant maker and as a support to the CBOs that often do not know how to access this information,' said Walker.
Article issued by UKZN