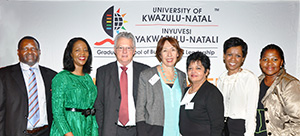 GSB&L Hosts Successful Women in Leadership Business Forum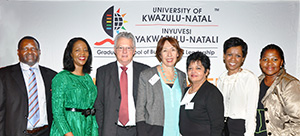 A panel of prominent South African businesswomen shared successful leadership strategies at a breakfast meeting hosted by the Graduate School of Business and Leadership (GSB&L) in association with Absa Private Bank at the Inkosi Albert Luthuli International Convention Centre.
Panel members included: the Chairperson of Mbekani Investment Holdings Limited and Aspen Pharmacare Ltd, Dr Judy Dlamini; Chief Executive Officer of SANPAD, Dr Anshu Padayachee; Chief Executive Officer of the Richards Bay Coal Terminal, Ms Nosipho Siwisa-Damasane; and Chair of the UKZN Council, Mrs Phumla Mnganga.
The high powered women shared their perspectives on leading in turbulent environments and alternative approaches to managing business challenges.
The breakfast, attended by 300 guests, coincided with Women's Month and is part of the GSB&L's commitment to the training and development of ethical leaders who are versatile and successful in all spheres of life and equally passionate about social and economic development in South Africa
Changing careers is not a decision to be taken lightly but for Dlamini leaving the medical profession for the business sector was a rewarding leap which began with acquiring the knowledge she needed to succeed.
'Most people thought I was crazy for giving up being a doctor but I knew I could be anything I wanted to if I developed myself. I decided to do an MBA and I knew I needed to use it because it has a short life span. We need to invest in our soft and hard skills if we are to succeed. Leadership for me starts with yourself, you have to be humble and learn as much as you can,' said Dlamini.
Collaborative leadership is what drives Siwisa-Damasane to succeed. Through her bottom up and inclusive approach she has managed to achieve great heights in her career.
For Mnganga, leadership in academia is about service, understanding the environment a person is in as well as being accountable to the stakeholders.
'Tertiary education is a very robust but rewarding environment and you have to stay true to what is right. To be able to serve stakeholders we must advocate support and embrace who we are as women and see it as a contribution to society,' said Mnganga.
As a researcher and UKZN Lecturer Padayachee found a way to use her PhD research as a foundation to curb domestic violence in her community.
'Transferring my PhD into action I started the Advice Desk for the Abused because it was my passion to see domestic violence end in my community. I would advise researchers to not only do research for themselves but to use it for the community and make sure that they give back,' said Padayachee.
The Dean and Head of the GSB&L, Professor Stephen Migiro said: 'Through this and other initiatives it is envisaged the School will fulfill its mission of educating managers and leaders to create value to society.' The GSB&L has introduced discussion forums on contemporary business and leadership issues to which eminent leaders have been invited.
The next business forum in the series will be held in October and will focus on Entrepreneurship which is core in job creation as well as the alleviation of poverty in South Africa.
IMAGE – From left: Professor Stephen Migiro, Dr Judy Dlamini, Dr Stanley Hardman, Mrs Wilna Botha, Dr Anshu Padayachee, Mrs Phumla Mnganga, and Mrs Nosipho Siwisa-Damasane.
Article issued by UKZN