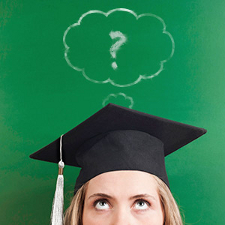 Here's what's vital for you to know when picking your subjects
So you're in grade nine and you can't wait to choose the subjects that you would like to study from grade 10 to 12. Take time to stop and think carefully about which subjects you are about to choose.
There are three very good reasons to think carefully before you select your subjects:
1.Your chosen subjects should remain the same throughout grade 10 to 12
2.You might require certain subjects in order to be legible for a specific course
3.It is always a good idea to keep your ability or interest in mind when selecting subjects
Your subject choice will impact your future, so bear this in mind when you consider what subjects to choose. These subjects include:
-Two languages (one should be your home language and the other should be a first additional language)
-Mathematics or mathematical literacy
-Life orientation
-Three other subjects that you can choose from – this list could be up to as many as 29 subjects depending on your school  or college.
Spend time researching so you are well informed before you make your decision. Here is a list of learning fields and the required subjects for each, to give you an idea of the kind of subjects you might need to take. Keep in mind that you must register for a total of 7 subjects and at least one language must be a Home Language.
Learning Fields

Subjects

Science

2 Languages
Mathematics
Life Orientation
Physical Sciences
Life Sciences
Geography

Agriculture

2 Languages
Mathematics
Life Orientation
Agricultural Sciences
2 of the following:

       Physical Sciences
Life Sciences
Geography

Human And Social
Studies

2 Languages
Mathematics or Mathematical Literacy
Life Orientation
Geography
History
Life Sciences

Business Commerce
And Management Studies

2 Languages
Mathematics orMathematical Literacy
Life Orientation
Accounting
Business Studies
Economics
Take time to chat to one of your
career counselors
at school or take an aptitude test to establish your skills and interest before making any decisions. You can complete our free
Career Aptitude
test to assess your skills and interests, which will give you an indication of the type of career that you are best fitted for. We cannot guarantee that this fun assessment will match you with your perfect career, but it is a wonderful tool to narrow down your choices and open avenues that you might never have thought to explore!
Article and Image supplied by: Eduloan