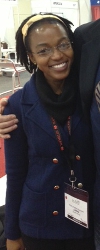 The Future Stars campaign is inspiring more and more young people every year – but above that, it is recognising excellence and building a better future for South African youth. June is a month for celebrating education, and at this years Africa's Education Week, our very own Future Star winner was announced.
Future Stars brought to you by Argo is an initiative targeted at aspirational youth under the age of 21, to motivate them to believe in themselves and in education's power to help them achieve their dreams. With the massive 5 year success of Stars in Education, through which Argo recognises the most inspirational and dedicated teachers in the country.  Brought to you by Argo and sponsored by leading brands, Capitec Bank, NYDA, TSB, Mindset TV and Metro FM, Future Stars not only motivates them to believe in themselves, the power of education and their dreams – but also helps them to reach those dreams.
Argo's Future Star's winner 2013 is definitely lighting up the sky with hope for a brighter future – by dreaming it, believing it and doing it.  Reitumetse Molaoa from Bloemfontein is working towards becoming an Environmental Biotechnologist.  She aims to be a role model to help young people discover their potential and hopes that someone invests in her so that she can pay if forward one day.  This certainly was the case when Kelly Ritchie from Sales Partners Worldwide met Reitumetse at Education week and bought her a laptop when he saw her potential.  He knew that this gesture would provide her with an opportunity to develop her skills, enable productivity, and Reitumetse would be able to gain access to research for projects at the drop of a hat.
This is a proven point that events like Education week can give winners a voice, a platform and direct access to potential further support.  Having someone who believes in you is a powerful motivator that gives you the support you need to realise your full potential. So many of our young people don't have the power of this support that keeps them working hard to build a better future, and sometimes it's easy for them to give up.
When receiving her award, Reitumetse enthused, " I feel very privileged and humbled to be recognised as a future leader.   With my gratitude directed to Argo for hosting the Future Star Awards. I am excited to hold the Future Star title and I am going to use this opportunity to further leverage myself, to network and in the process learning ways that would make me a better person. However I feel that I also have a duty to make sure that young people take pride and prioritise education. Given this opportunity I can contribute to shaping the future of our country. As Lauren mentioned that I am involved in mentorship programmes and one of the things that I feel very strongly about is Youth Development, particularly in the aspects of academic and leadership excellence. With that said, a couple of students from my university and I are involved in a project called Community Service Learning where we render our university acquired knowledge to help disadvantaged high schools around Bloemfontein in science subjects (maths, physics, life sciences and chemistry).
In line with celebrating youth month; it has made me realize that the youth needs guidance. If we are given enough mentoring and opportunity we can be great. By opportunity I mean that seeing that I want to pursue a career in Environmental Microbiology, I need someone to believe in me, I need someone to invest in me. Invest in the future of this country, so we can be the best this country has ever seen.
Once again to the sponsors; Argo, MetroFM, Capitec Bank, Mindset TV, TSB and the NYDA. Thank you for showing interest in the future of South Africa, I sincerely hope that the same passion and enthusiasm will spill over into your lives as you try to improve the lives of others".
Keep your eyes out for the 2014 Future Stars Awards here on SAstudy.co.za
For more info on this year's entrants