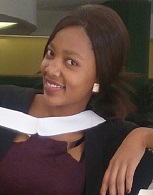 From a small rural community to university Cum Laude engineer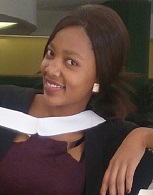 Growing up in a rural community and attending schools that do not have sufficient resources for teaching and learning can be a nightmare to young people's career dreams. But lack of resources did not deter Paballo Ntshabele to soar to great achievements in high school, prior to joining the University of Johannesburg (UJ) gang of greats.
| | |
| --- | --- |
| | The 21 year-old Ntshabele graduated Cum Laude in National Diploma in Chemical Engineering, joining the 226 graduates at the UJ congregation on Friday, 6 June 2014. She is currently studying towards a BTech in Chemical Engineering at UJ.Ntshabele grew up in Moruleng, a small village near Rustenburg in the North West province. She attended Comcy Primary School after which she went to Sedibelo Middle School before matriculating at JM Ntsime High School.Ntshabele is testimony to overcoming the lack of career guidance for learners in rural schools. |
"While I was in high school, I had no idea what course I would study after matric. Fortunately, I was chosen to attend Anglo (A-team) Saturday lessons because I had great marks in my subjects, particularly mathematics and science. We were told that to qualify for Anglo bursaries, we had to choose a course that the company sponsored. Chemical Engineering was on the list and I chose to enrol for it. The course is for candidates who are good with figures, good in maths and science, have critical and logical thinking abilities, and resilience," says Ntshabele.
The young hopeful sees her qualification as a channel to help solve problems for humanity. "Chemical engineering is an application of thermodynamics, science and math to combat environmental issues, and convert raw materials into valuable products, while considering costs and the environment issues with the interest of communities at heart," she explains.
For Ntshabele, studying at UJ was not only beneficial for her academic achievements; she also learned other social skills as a student. "Life is a journey. I met many people here (UJ), with different believes, attitudes and backgrounds. I believed in myself and I learned a lot from my friends. Choosing friends is also a clever way of maximising greatness in one's career because our lives are consequences of our choices," says Ntshabele.
The elegant young lady has immense love for the engineering field. "I am planning to obtain a PhD in Chemical Engineering in future. I also wish to start an engineering company that will help to combat environmental issues and create jobs once I have accumulated enough knowledge and experience in the engineering field," says Ntshabele, sharing her future plans for her career.
Her secret weapon for graduating Cum Laude, she says, was attending all her lectures because she believes that the most important course content and examples are discussed in class. "I made sure I comprehended almost everything during lectures. I sacrificed my sleep for studying. My study partners and I studied almost every day. During the day, I attended lectures and slept enough because I lived a nocturnal student life," she added.
When asked about challenges in tertiary studies, Ntshabele says she often worried about her tuition fees – mostly in her first semester of first year at UJ – due to losing out on a bursary because the company did not sponsor national diploma students. "Eventually, after I received funding in July in the second semester, life got better.
Ntshabele rates the quality of education at the University as follows: "The quality of education at UJ is good. We are privileged to be taught by professors and doctors from national and international universities."
Article issued by UJ. To view their profile on SAstudy, click here.