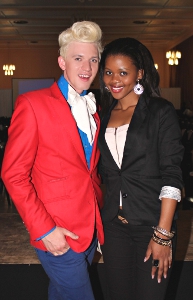 Entries open for Gert-Johan Coetzee's 2014 Fashion Design Bursary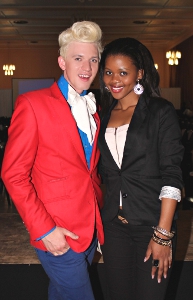 He's come a long way from dressing his pencils in tissue paper as a six-year-old in Koster, and now flamboyant fashion designer Gert-Johan Coetzee wants to make some other young fashion lover's dream come true. The search is on for a student to benefit from the Gert-Johan Coetzee bursary for studies in fashion design from the North West School of Design in Klerksdorp, where South Africa's designer to the stars graduated in 2005.
"I am so fortunate to be able to make my living doing what I love, and I would like to pass that opportunity to another young aspirant designer with the same drive," says Coetzee, who at the tender age of 25 already employs 10 people in his thriving Johannesburg business. "The South African fashion industry is developing so fast, and if you have an entrepreneurial mind along with design talent and a drive to succeed the sky is the limit. I am busy achieving my dream, so I want young talent to know they can do the same. Ifthis bursary adds one new star to the SA design firmament I'll have achieved my goal."
The R160 000 bursary covers tuition and study materials for the duration of the brand-new three-year BA Fashion Design degree course that the school will offer from 2014, and includes a high-end Bernina sewing machine and overlocker worth over R30 000. The winning candidate will also benefit from having Coetzee as a mentor and will have the opportunity to serve an internship at the designer's thriving Johannesburg studio.
Based in Klerksdorp, the North West School of Design offers a full spectrum of fashion courses that includes webinars and Skype conferences with international fashion colleges and lecturers, exposing the students to international best practices and insights, to align the college with global standards. This in addition to the input of people such as Gert-Johan Coetzee who run successful businesses in the South African fashion industry and offer practical advice to students and lecture staff alike.
"The North West School of Design is a small college so our students benefit from smaller classes where they get personal attention and assistance every step of the way. Ultimately we form a fashion family that extends beyond the time students spend earning their degree," says NWSD principal Marlene Oosthuizen.
Coetzee, whose glamorous red-carpet dresses are seen on celebrities at all South Africa's big events, is currently ensuring that TV presenter Pabi Moloi looks stunning every Tuesday night on Strictly Come Dancing, at 8pm on SABC3. "For this bursary we are looking for someone who has a passion for fashion design as well as an aptitude for it; someone who will put in the hard work because they have a fire in their hearts to become a fashion-industry professional."
Last year's bursary winner, 21-year-old Prudence Kau from Centurion, agrees: "My advice to anyone who wants to enter is to be 100% sure that fashion is truly what they want to do. It will make the sleepless nights and endless work worthwhile! You must have the creative ability and the passion. If that description fits you, go for it – as someone from a single-parent home this bursary has meant the world to me. I can never be thankful enough for the opportunity it has given me to work towards becoming what I have always wanted to be since the tender age of six!"
Want to know how to ENTER? CLICK HERE
The closing date for entries is 30 September 2013.