"Day in the Life" of a Candidate Engineering Technologist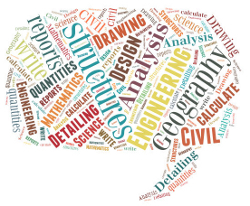 Name: Keamogetswe Mmekwa
Industry/Field: .Engineering Civil (Structural)
Job Title: Candidate Engineering Technologist (Structures) at Hatch Goba
Years of experience:  8
How did you come to work in this field (or industry or position)?
I worked on a project in a Grade 11 Geography project where I investigated the collapse of prominent structures and structural features in and around Pretoria. This sparked the interest in Engineering and particularly Structural Engineering. I then worked for a contractor and during this period got in touch with Goba (who subsequently merged with Hatch to form Hatch Goba)
Do you have a tertiary qualification? If so, what did you study and where?
I have a National Diploma in Civil Engineering, a BTech degree in Structural Engineering from the University of Johannesburg and a BSc Hons in Structural Engineering from the University of Pretoria.
What career path have you taken to get where you are today?
I worked and did my training on a construction site working for a contractor. I wanted to study further so I joined a consulting firm in the roads department. While studying for my BTech in Structural Engineering, I joined the Structures Department on site on one of the GFIP projects.
What are your duties and responsibilities?
Design and Analysis of Structures, Drawing and Detailing, Conduct site inspections, write reports and calculate quantities.
What do you see as the pros and cons of this type of work?
PROS: The satisfaction of being able to solve a problem, I get to travel and I get to meet a lot of people, seeing a direct contribution to the development of South Africa.
CONS: Long hours in front of the computer, working in extreme heat and extreme cold when on site.
What factors would make one fail or succeed in this type of work?
SUCCEED: To keep reading in order to keep up with the latest developments
FAIL: Giving up
What is your supervisor's job title?
Structures Manager, Gauteng
What challenges do you face in your profession?
Knowledge transfer, being ahead of developments, unpredictability (you can't really plan ahead), you have to be willing to adjust your plans.
How important is it to do part-time work/internships in your field?
Our work is very technical, so seeing the practical side of things enables you to understand the work better.
Do you offer internships at you company? If so, what is the role of the interns in your office?
Yes, Hatch Goba does offer internships. The role of the interns is to get an introduction to what they will be working on once the graduate.
What advice do you have for the youth interested in your field of work?
To take up Mathematics and Science and apply early to the institution you want to study at.
If you would like to know more about Hatch Goba, click here