CTI Education Group's status as a leading supplier of private higher education in South Africa has been underlined by the nomination of three of its students for prestigious Loerie Awards. Lindie Wessels, Marlize Prinsloo and Carien Vermaak are Midrand Graduate Institute students studying from the remote campus at CTI Potchefstroom. The Graphic Design students were nominated to receive awards in the packaging category of the Loerie Awards.
The three students travelled to Cape Town the weekend of the 22-23 September, hoping to be among those called up to receive the coveted awards, which represent the pinnacle of South Africa's advertising industry. CTI Education Group's CEO, Darren Fox, said: "We are extremely proud of our three students who have been honoured in this way. Their nomination for an award which showcases the crème de la crème of South African advertising emphasises the high quality of education that CTI provides for its students. We wish them all the best for the Loerie Awards."
Lindie Wessels' packaging designs for "Neighbourhood of Design" and "Whisky" received the go ahead for nomination, while Marlize Prinsloo was successful with her innovative "Tissue" packaging.  Carien Vermaak was given the nod for "Steri Stumpi" and "Groom Creative".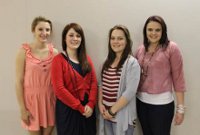 Three CTI Potchefstroom students were nominated for the Loerie Awards: Marlize Prinsloo, Emarie Gouws (Lecturer), Carien Vermaak and Lindie Wessels
For more information on CTI Education Group, go to http://www.cti.co.za/