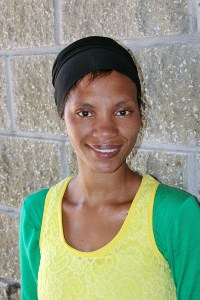 An independent school for disadvantaged children has beaten the national matric pass rate of 78% with 97% of its learners matriculating, showing that a holistic approach to education is the right formula for success.
On the day that Cape Town matric Janet Witbooi, 19, was supposed to write her Afrikaans exam, she watched her family's shack burn down in Athlone on the Cape Flats. A friend called her school and soon her principal and another teacher were by her side to see how they could help. Janet was taken to the teacher's house where she would stay until her family got back on their feet, and not only did she write Afrikaans that day but she also got her highest marks for the subject – 65% – and overall achieved a diploma pass.
"It was very difficult but I couldn't let it hold me back. I knew what I was striving for. I want to achieve success in my life and I want to study," Janet said soon after getting her results at her school, Christel House South Africa, in Ottery yesterday. All but one in her class of 42 passed matric.
Principal Fortune said he was extremely happy with the results. "Our pass rate went up from 96% last year to 97% this year and 54% achieved bachelor's passes (university exemption) compared to only 24% last year," said a delighted Fortune.
Christel House is an independent school, heavily reliant on donations and external funding to provide state-of-the-art education, as well as other benefits, to poor primary and secondary school children. Free education, transport to and from homes, uniforms, meals, as well as counselling, extra tutoring and personal attention is provided. Set up by American philanthropist Christel DeHaan 12 years ago, the model has proven extremely successful because of its holistic approach to breaking the cycle of poverty. It seeks not only to educate the children but also to support all areas of their development – at home and at school.
Principal Fortune says that, given the immense scope of socio-economic challenges confronting most communities in South Africa, you cannot look at the education of the youth without taking the bigger picture into account.
"If you compare our matric results with other schools in the communities where these children are from you will not find another school with better results," said a proud Fortune. "We make a huge difference here and the results prove that the Christel House model works."
This year's matric class was the first to have passed through all 12 years of their schooling at Christel House. This made the class even more special to Fortune and the other teachers, who appeared as proud and excited about the learners' results as the matrics and their parents. "I feel we've done very well. I am very excited. It is a good foundation to build on."
The school's holistic model extends beyond the 12 years the children spend in school. After passing matric, Christel House learners become part of the work study group, which is closely monitored for the next five years to ensure the youngsters make it to the next level of finding jobs, internships and progressing at college and university. Food and transport stipends are made available as well. Head of the work study programme, Chris Hanson, told the matrics that their results were an outstanding achievement. "This is a group we can work with. I see this as only the start of big things to come."
Top student Khango Bavuma, 18, achieved three distinctions and will shortly start actuarial science studies at the University of Stellenbosch, thanks to a scholarship from the Rupert Foundation. He is extremely grateful for all the support he has received during his schooling. "I wouldn't be the person I am today without the school," he says. But perhaps it is fellow matriculant Latoya Mnani, 18, who says it best when she explains that one of the lessons she has learnt at Christel House is that, "It doesn't matter where you come from but where you are going."