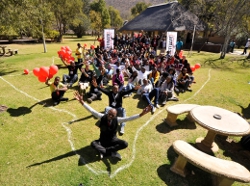 Youth leadership network, ACTIVATE! is currently calling socially-motivated young leaders who want to play a role in developing South Africa to apply for the 2014 intake. Joining the network involves participating in a three-year capacity-building programme that starts in January 2014.
According to Chris Meintjes, ACTIVATE! Chief Executive Officer, the network is made up of young leaders between the ages of 20 – 30 who are actively involved with projects that are making a real difference in South Africa, and who bring that experience to connect nationally and drive important shifts in public discourse, policy and innovation.
"The distinguishing feature of all these Activators is their ability to engineer positive transformation in their communities and the country as a whole. The ideal candidate is, therefore, someone who is already involved in a leadership role in the community and who is naturally entrepreneurial. Their involvement with ACTIVATE! will offer them a strong support network to sustain their vision," he explains.
Many young South Africans do not understand the diversity and complexity of the roles they play in our society. ACTIVATE! enables them, through a series of experiential and practical coaching modules, as well as continued connection and resources, to direct and manage their actions by understanding these roles.
By allowing them to gain insight into the impact they can have and supporting their passion to do so, ACTIVATE! encourages these young people to collectively create the society they want to live in.
ACTIVATE! systematically builds and supports their entrepreneurial capacity with a research-based experiential training, national mobilisation, and continuing support programme that runs over three years and focuses on the following five broad pillars:
developing a strong sense of self
generating social capital and connections
stimulating innovative thinking and the ability to lead public innovation
building the capacity to navigate socio-political systems effectively
Using their connections with other Activators towards projects that will have a tangible national impact.
"A single person with a passionate vision for a better life in South Africa can change a community's circumstances with the right intervention if they understand themselves and have the necessary skills to effect change," says Meintjes. "If thousands of these young leaders are connected together with a common purpose-driven identity and ability to innovate, then their national impact will be exponentially greater than just the sum of individual projects."
"ACTIVATE! is uniquely positioned because we recognise that the youth of South Africa, and their ability to tackle the country's problems innovatively, is one of the country's greatest resources. ACTIVATE! enables young people by bolstering their initiatives and inherent interest. The Activators learn from each other's experiences and expertise. Innovation is sparked through collaboration and they provide each other with a unique support structure. We know we are not alone: we are Activators, and we are driving change," says Baxolisi Mdlali, Activator from the Eastern Cape.
Activators come, from different sectors, different socio-economic backgrounds and different life experiences, joined together by their common purpose to effect positive change.
"We speak of the youth getting involved, but first the youth need to understand what they really want to get involved in, and what innovation it is possible to spark. ACTIVATE! allows you to define exactly that," says University of Witwatersrand Development Studies student, Lesego Ndala, a second year Activator who was one of the network's first groups of young leaders to embark on the Programme when it launched in 2011.
If you are a young, vibrant leader who is looking for an opportunity to connect with other extraordinary young people across the country then apply to be part of the ACTIVATE! Network from 2014.
It provides an opportunity to connect with a diverse network of like-minded peers across South Africa.
There is nowhere else you can build relationships with young leaders from across small start-up NGOs to large private companies, students and volunteers, from every racial and socio-economic group.  To build those relationships as well as accessing new ideas, people, opportunities and resources across all nine provinces is an unmissable experience!" concludes Meintjes.
For more information about how to apply to the ACTIVATE! 2014 please go to www.activateleadership.co.za; dial 12016000#.
Applications close on 30 October 2013.