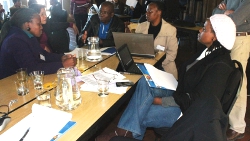 Written by Kwanele Butana
CPUT recently hosted the 11th Annual Research School of the Southern African Association for Research in Maths, Science and Technology Education (SAARMSTE).
The four-day conference for PhD students took place at Goudini Spa, near Worcester.
The event attracted registered doctoral students, post-doctoral fellows and facilitators from universities throughout South Africa as well as the University of Georgia in the United States of America. The purpose of the Research School (RS) is to support the participants and to explore various aspects of the research process.
At the school, a team of invited experienced researchers from universities ran plenary sessions and workshops focusing on issues of research design and theory, data collection and analysis, and writing for publication.
During the workshop sessions the participants were able to share their work with others and get feedback from peers and experienced researchers.
The main rationale behind the school was to provide an intellectual community to focus on research and for participants to find the power of working with their colleagues, says RS co-founder, Prof Peter Hewson.
"This objective has been met in many ways as a lot of writing is involved and feedback is provided during workshops," says Hewson.
CPUT is proud to have hosted the RS, which embodies collaboration with different tertiary institutions from local and overseas institutions.
For more information on Institutions
Article source: CPUT