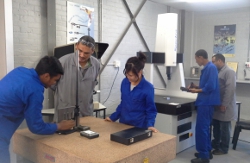 Northlink College is proud to be the first College to have a state-of-the-art Metrology Laboratory, a first in the FET College Sector to take such a step. Metrology is defined as "The scientific study of measurement and includes the calibration of equipment according to predefined standards".
This allows the machinery, apparatus and finished products to be tested as metrology is the science of measurement that attempts to validate the data obtained from test equipment.  In practical applications, it is the enforcement, verification and validation of predefined standards for accuracy, precision, reliability and traceability.  It is inevitable that the precision of equipment, as a result of wear and tear over time, loses its accuracy and with this Metrology equipment the accuracy can be tested and restored. The cost of such a laboratory runs well over a million rand.
The partnership between Northlink, CHIETA, Western Cape Tooling Initiative (WCTI) and Escape Gauges has resulted in the establishment of this world class Metrology Laboratory erected at the Wingfield Campus, one of Northlink's campuses situated in the Northern Suburbs of Cape Town.
Says Louis Carelse, Programme Manager: Northlink College Wingfield Campus: "This laboratory will not only help us to ensure quality in the educational offering of our courses, but in addition to our centre of excellence support our goal of being one of the leading Colleges in the Engineering field."
This establishment ranks amongst the top in the country with the equipment being of the highest standard and quality in line with National and International standards. Some of the latest technology used in this laboratory is a 3D measuring machine, shadow graph and a hardness tester and a host of other extremely specialized equipment.
Northlink purchased the equipment from Escape Gauges and they were generous to furthermore donate a substantial amount of equipment in order to make this a world class laboratory.  "We are pleased that the partners we have chosen to team up with are already well established and highly recognized nationally and internationally. It shows that we are operating on an international standard.  This enables our students to find employment anywhere in the Engineering sphere," adds Brad van Reizig:  Head of Department:  Northlink College Wingfield Campus.
IMAGE: From left: Kyle Govender (Northlink Student), Mr. C. Prisloo (Northlink Lecturer), Lorren Vogel (Northlink Student), Alroy Kiewits (Northlink Student) and Mr. R. Hoffman (Northlink Lecturer)
Article source: Northlink College Blog