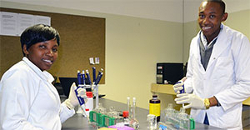 Two students from the College of Health Sciences (CHS) will present their masters research at the 11th Southern Ontario Neuroscience Association (SONA) International Conference which will be held this month in Rabat, Morocco.
Mr Khayelihle Makhathini and Ms Thabisile Mpofana, colleagues from Stanger and Inanda respectively, said they were thrilled when SONA, the International Brain Research Organization (IBRO), accepted their applications to deliver poster presentations of their projects at the conference. Both students were funded by the CHS to attend the conference.
They said although the importance of brain/neuroscience research is undeniable, very few people want to venture into this field. 'There is a need to develop expertise in it. We need to tap into this niche and create better understanding on neuronal impairment.'
Makhathini will present on his recently completed study which found that picolinic acid – a base compound from which a number of derivatives are produced and used as herbicides – has the potential effect of preventing neurological dysfunction. He explained that if untreated, HIV dementia could lead to neuronal loss in the part of the brain that is involved in memory forming, organizing, and storing – the hippocampus.
Mpofana said one of the drawbacks in Parkinson's disease (PD) treatments is the loss of efficacy in current drugs and that certain treatment approaches involve invasive surgery.  Her research is based on finding more effective treatments for PD and to address the disease progression in relation to postnatal stress on the adult brain later in life.
Set on following the footsteps of Professor William Daniels, Dean and Head of the School of Laboratory Medicine and Medical Sciences, and Dr Musa Mabandla, Senior Lecturer and Academic Leader for Research in the School – their research supervisors – Makhathini and Mpofana said presenting at international conferences gives them hope that one day they too will become top neuroscientists in the country.
Article source: UKZN