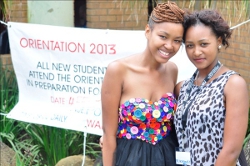 WSU Songbird Berita (left), with second year PR student Mihlali Mboxela, after a vibrant performance at orientation.

Orientation week is a very crucial week for first year students at university as it affords new students the chance to be introdced to the structure and the manner in which a university operates, making for a smooth transition into university life.
In the first week of February, Buffalo City, Mthatha, Queenstown and Butterworth campuses all gave a cordial welcome to the enthusiastic students in their quest for education and newly found independence.
NMD Campus Director, Noluvuyo Nqebelele gave some parental advice to the new WSU students during their 2013 Orientation programs hosted by the Centre for Learning and Teaching (CLTD).
"Now that you are here do not forget where you come from. Some of your parents have sacrificed their livelihoods for you to be here today and this should be your guidance on the decisions you will take on how to live your life as a responsible university students. Choose carefully whom you befriend and how you spend your time here because success ultimately lies in your hands," emphasized Nqebelele.
At the Buffalo City Campus, WSU Deputy Director for CLTD, Khanyi Mkize-Masha introduced the various units of the centre namely: Extended Studies Academy, Reading & Writing, Continuous Professional Development, E-Learning and their functions. Mkhize-Masha urged the students to utilise these services and emphasised how vital they are in teaching skills like time management, teamwork and being computer savvy. On that note, Mkize-Masha welcomed everyone.
One student who knows exactly the sacrifices his grandparents have made so that he can acquire an education is Sigcobile Ndwendwe who will be doing his first year BCom Accounting at NMD.
Ndwendwe is one of the gems WSU finds itself blessed with in 2013. Not only did he pass his matric with distinctions in all his subjects, he also managed to catch the eye of Deputy Minster Travel and Tourism Thoko Xasa, who after learning of Sigcobile's home situation decided to source a R50 000 bursary for him from Ntshidi & Associates (CA firm based in Durban).
The Deputy Minister Tokozile Xasa, KSD Mayor -Nonkoliso Ngqongwa, Sigcobile's High School Principal -Mr Langa of St Patrick Senior Secondary School and his proud family members (Grandparents and little brother) officially handed the boy over to WSU in a small intimate occasion concurrent with Orientation.
Sigcobile forms the face of WSU students, hard workers filled with the drive to succeed but hindered by their disadvantaged backgrounds.
"WSU is home to many like Sigcobile, people with the potential to be great achievers of this country but because of poor backgrounds they fall short of reaching their full potential something we need to help them with," said Simphiwe Mzimela of Ntshidi & Associates.
He continued that the country has an enormous need for highly skilled financial people who understand the intricacies and challenges facing various industries and ultimately the South African economy. "Current Statistics reflect that out of 32 418 Charted Accountants in SA, only 2439 are black. This highlights an extensive intervention by all, hence we make it our responsibility to empower youngsters like Sigcobile. People who have real tangible dreams and willpower to excel in this field," added Mzimela.
An overwhelmed Sigcobile could not contain his tears as he thanked the Minister and Associates for the bursary, his grandparents for their love and support since his mother's passing and Walter Sisulu University management for such an unexpected yet amazing welcome.
"I just thought I was coming to orientation and that this occasion would be something small and all of this happens. I'm overwhelmed and I'm glad that the two people who have sacrificed so much financially and otherwise to get me things I needed for school are here to witness this day with me. I think this day defines who I'm going to be and I just can't wait to start paving the way for my future at WSU," added Sigcobile.
Meanwhile, 21-year-old fourth-year BCC Analytical Chemistry student, Zininzi Mpafa said orientation is a necessity, "it helps motivate new students and gives them a better understanding of the university also with information about extended programmes, student support systems and extra-mural activities."
Third-year student and songbird Gugu Khumalo, affectionately known by her fans as Berita, lifted Makula's spirits though as she performed for the students. With her latest album being nominated for two Metro FM Music Awards, Berita encouraged students to explore their talents and also appreciate the opportunity given by WSU.

Buffalo City Campus SRC Premier Anele Nkoyi encouraged the group to execute a programme to restore credibility to the university. Nkoyi was quick to admit that this cannot be achieved overnight. "It should be an ongoing exercise; it is a sad reality that WSU students suffer once they are absorbed into the corporate world. Hence they should prove themselves that WSU is a force to be reckoned with. In that way they will be ambassadors of the university".
Acting DVC: PQAD, Prof Jadezweni, gave a brief history of WSU. Jadezweni urged students to 'fly the WSU flag high' and take pride in being products of the university. He went on and described the character of Walter Sisulu, the political stalwart that WSU was named after – he was humble and did not boast. WSU should symbolise wisdom, integrity and excellence just like Walter Sisulu. I wish that you become 'Pillars in the legacy of WSU' once you graduate"
For more information on Walter Sisulu University